What Colors Should I Choose for My Siding and Roof?
"I get asked this question constantly," says Mike Reedy, owner of Quality Built Exteriors. "When they ask what color they should choose, I reply, 'Well, what color do you like?'"
Of course, he explains, there's more to it than preference, because most people understand that the color palette of their home exterior is a science as much as an art. Your favorite siding color might look awkward against your favorite shingle color. And of course, there's still your shutters and front door to think about.
That's why it helps to work with a Hampton Roads company that does both roofing and siding, because they understand how it all fits together. Their advice is based on experience and expertise. But it's a good idea to educate yourself first, so you have some general ideas about the look you're trying to achieve—that helps narrow down your options early in the process.
Where do you start? It can be a chicken-or-the-egg situation if you're only replacing one thing: If your siding's in good shape but you need a new roof, then the siding color must lead. Conversely, if you're getting new vinyl siding or HardiePlank siding installed, but your roof is relatively new, then shingle color is your starting point. It's easy and inexpensive to repaint your shutters and door, so leave those as the final decision. Of course, if you're going all out with new siding, roof and detail paint, then your possibilities are endless.
There's a basic three-step process to tackling your exterior color palette:
Identify the permanent features. What elements of your home exterior cannot be changed (without a major remodel)? For instance, a brick foundation and chimney, stone columns, copper portico. This can also include major landscape elements, like a crape myrtle that will be fuchsia for several months of the year, as well as elements of your neighborhood like the mailboxes and streetlights
Recognize the style of your home. Start with your location—are you in a 1960s neighborhood of colonials, or a waterfront row of beach cottages? Is your house modern or traditional? Historic? These factors should influence your color choices.
Understand the basics of exterior design. Certain palettes are common for a reason—some colors just naturally work well together. This is not the time to experiment. Learn the rules of color, contrast and proportion to make your curb appeal count.
Here are some rules of thumb and other key considerations for your home exterior color palette.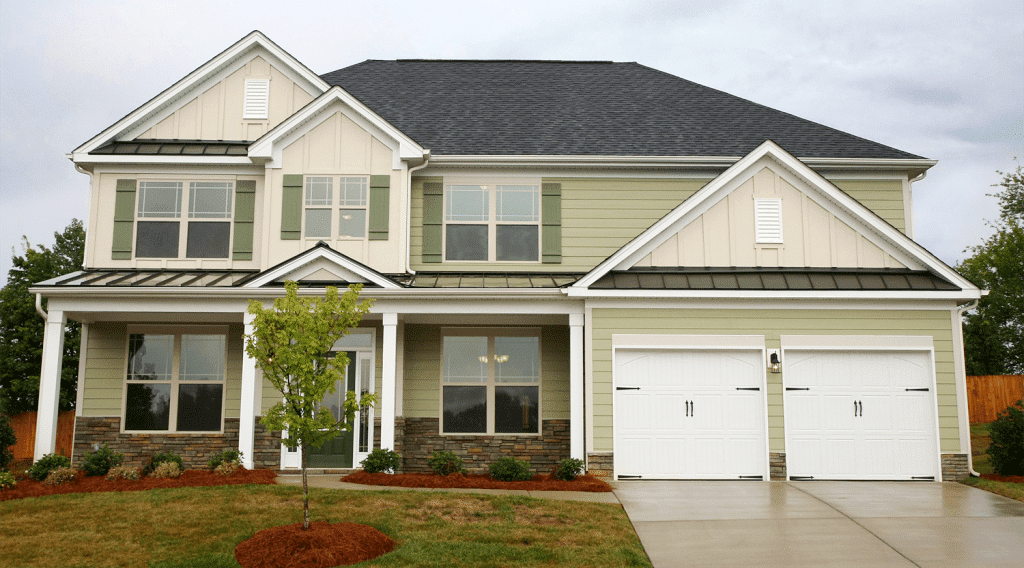 Blend In or Stand Out?
Before you get started, ask yourself: Do I want to coordinate with my neighbors? Or stand out from them? It's not a trick question. And it's OK to answer "both!" Many of us want our home to look like it belongs, which means we need to take into consideration what the rest of our block or neighborhood looks like. If every single house has neutral-colored siding and an architectural shingle roof, you probably don't want to be the one with red siding, stonework and a metal roof. (But maybe just one of those things!).
At the same time, it's important to show your personality and make your house easy to find. I always tell people, "the one with the yellow door" (read my article about that door!). And if all the houses on your street were constructed by the same builder, it's likely that they have an unfortunate sameness about them. Since you're making a huge investment in new siding or roofing, why not go with a different color than you had before? It will be a more enjoyable purchase and make your house feel new again.
The house above uses a beautiful combination of HardiePlank siding colors mixed with stonework, and an architectural shingle roof with metal roofing over the porch and garage. The blacks, greens, cream, white and neutral stonework harmonize effortlessly.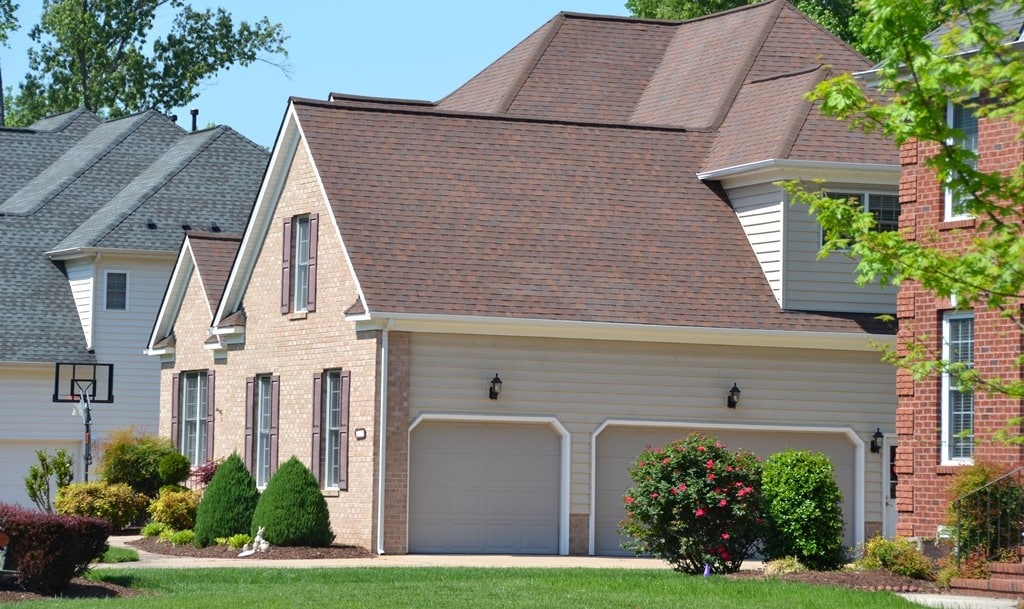 Be a Good Neighbor
Back to that point about your neighbors… don't use this project to tick them off! If you have an HOA, be sure to follow its rules about color and material restrictions (it's expensive to redo when they send you a citation). Even without an HOA, though, consider whether your "creative" palette will be your neighbors' eyesore… remember, the houses across the street have to look at your home exterior more often than you do. It's a good idea to let your immediate neighbors know about your plans and show them some samples. When we added shutters to our house, I brought my next-door neighbor the little color-matched sample shutter I had received, and described to him what it would look like, so it would not be a worrisome surprise when he saw someone working on the façade.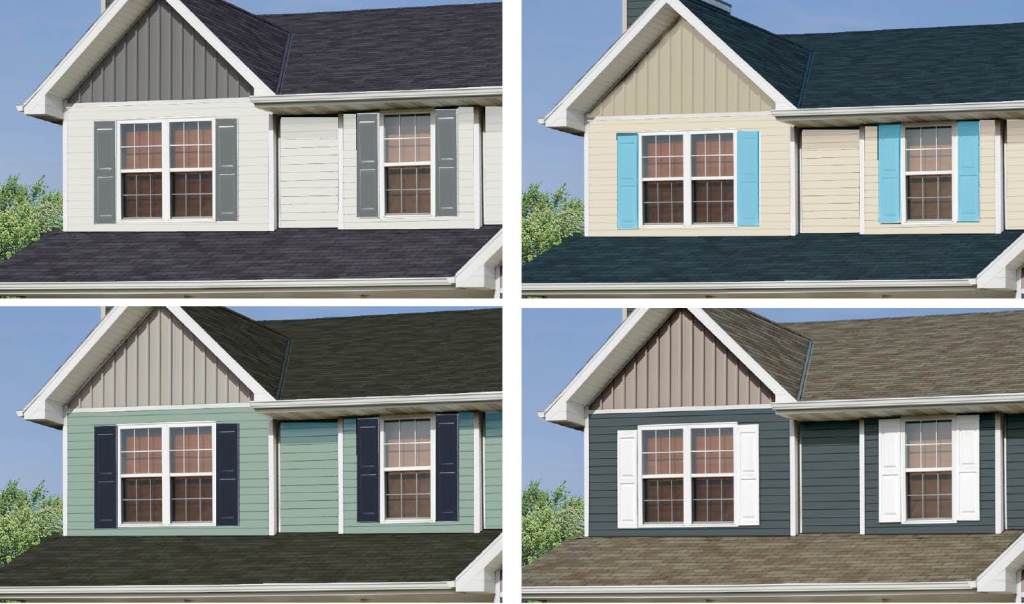 COOL TONES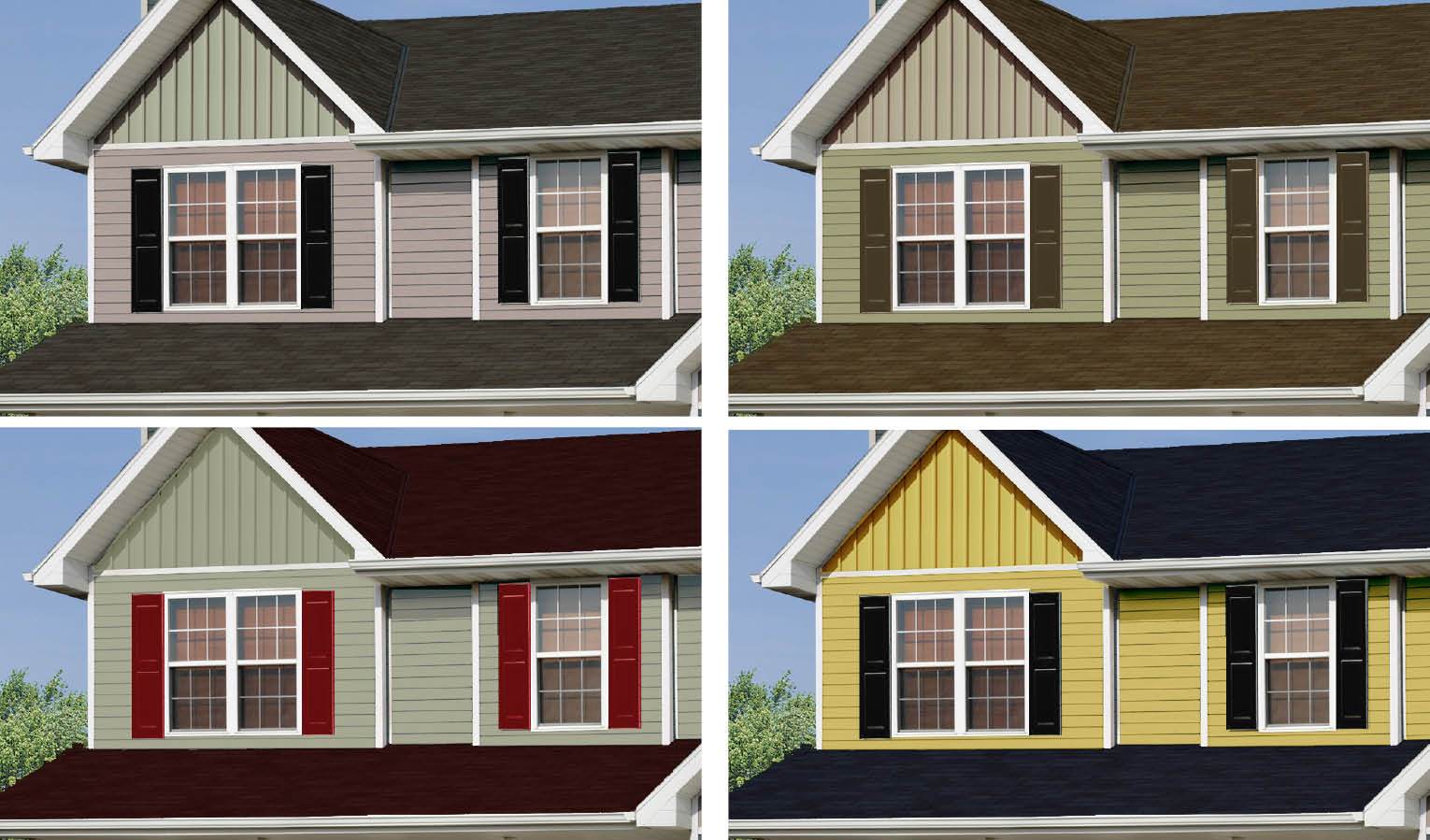 WARM TONES
Warm or Cool?
As a rule of thumb, pair a cool color with another cool color, and warm with warm.
For instance, if your roof has a warm tone such as rust red or earthy tan, choose siding in a similarly warm shade such as beige or brown. For a homes with cool-toned shingles like black or slate gray, pick a cooler siding color such as blue, gray or green.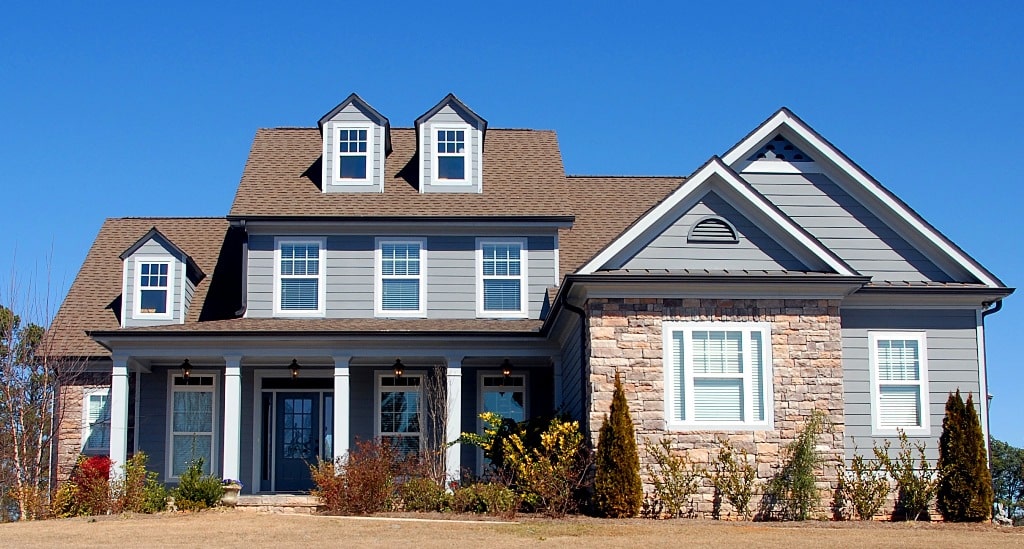 Strive for Contrast
The general consensus is that siding and roof should be in contrasting colors. Light siding works best on a home with a dark-colored roof, and vice versa. An easy way to achieve contrast without having to choose multiple colors is to simply pick one, such as blue, and use it in different shades on the siding, shutters and roof. Most homeowners choose a darker roof and lighter siding, because the effect is naturally pleasing to the eye: a "top-down" presentation. That said, it can still look amazing in reverse!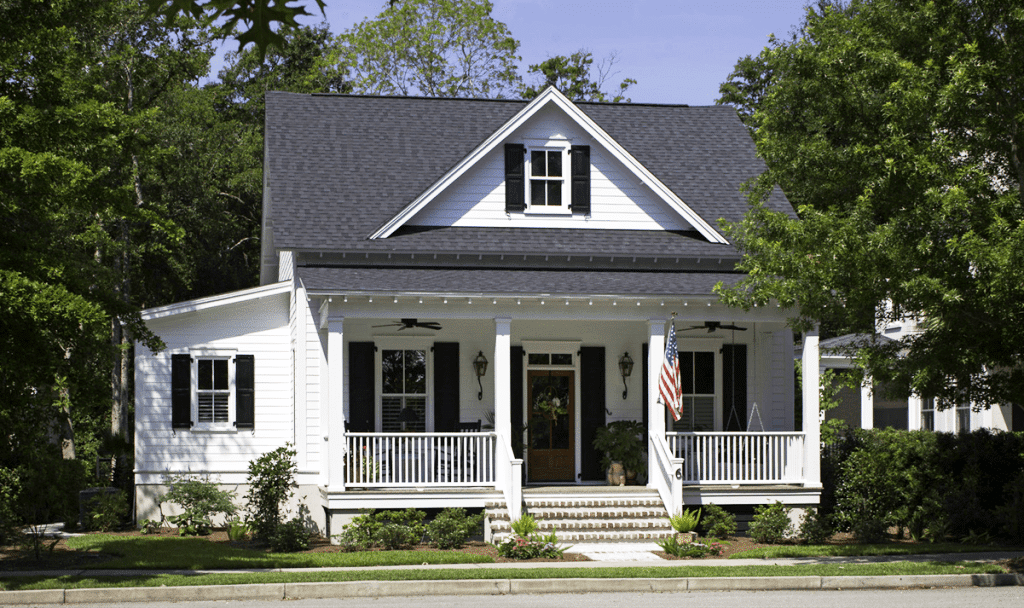 Basics are Best
True, you can find a large array of color options when choosing home exterior materials… but do you really want a green roof or purple siding? Playing it safe will usually pay off, especially at resale. The most popular roof shingle colors are black, gray, brown and red—most likely because these have been the color of roofs for centuries (slate, metal, wood and clay).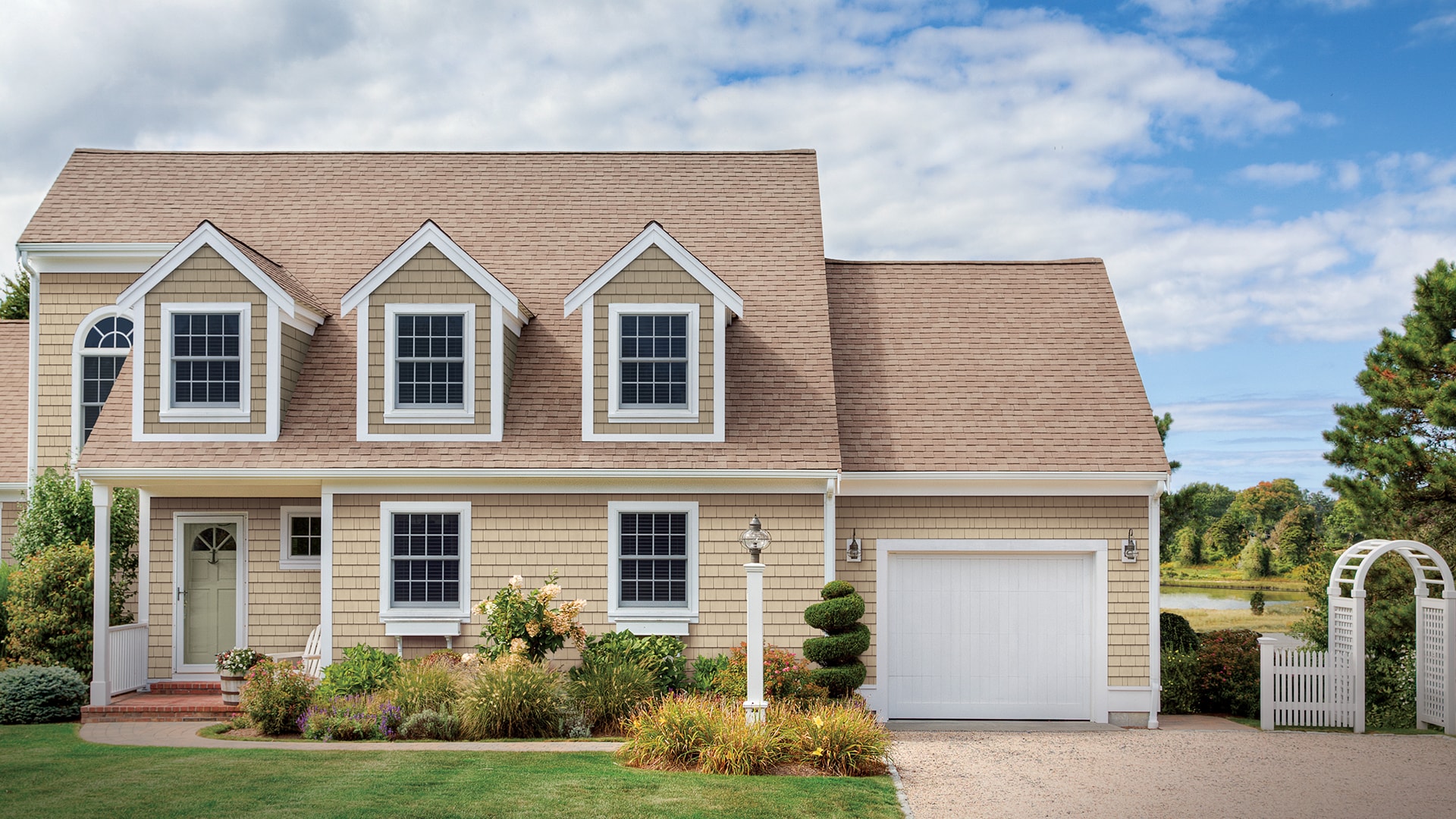 When in Doubt, Go Neutral
Medium tones are associated with harmony. They're also a safe bet because they integrate well with almost any style of home. You can go neutral on the whole house (neutrals always work well together), or to balance out a bolder color choice (Want that green roof after all? Then use a neutral siding color like beige).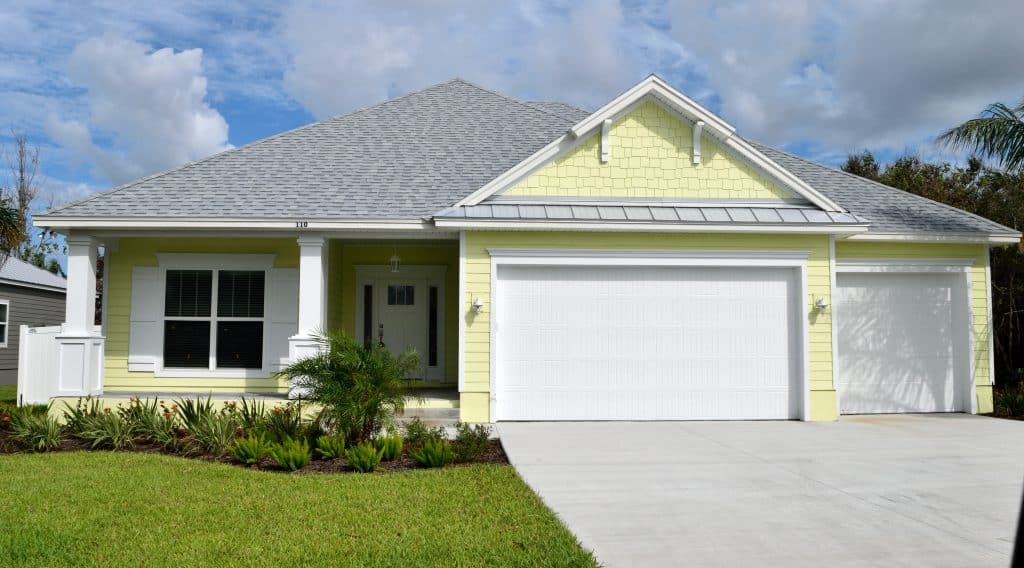 Keep with Architecture
This should go without saying, but the style of your home should be a strong factor in color selection. Craftsman homes usually get natural brown, red or green roofs, and are paired with siding in dark colors like olive, hunter green or russet. Though you also can channel the lighter 1920s bungalow colors like yellow and sage. Conversely, a Victorian-style home often has multi-colored siding in pastel or deep colors. And of course, in Hampton Roads/Tidewater Virginia, beach cottages like the one above are popular, with siding colors ranging from deep gray to bright yellow, nearly always with white trim.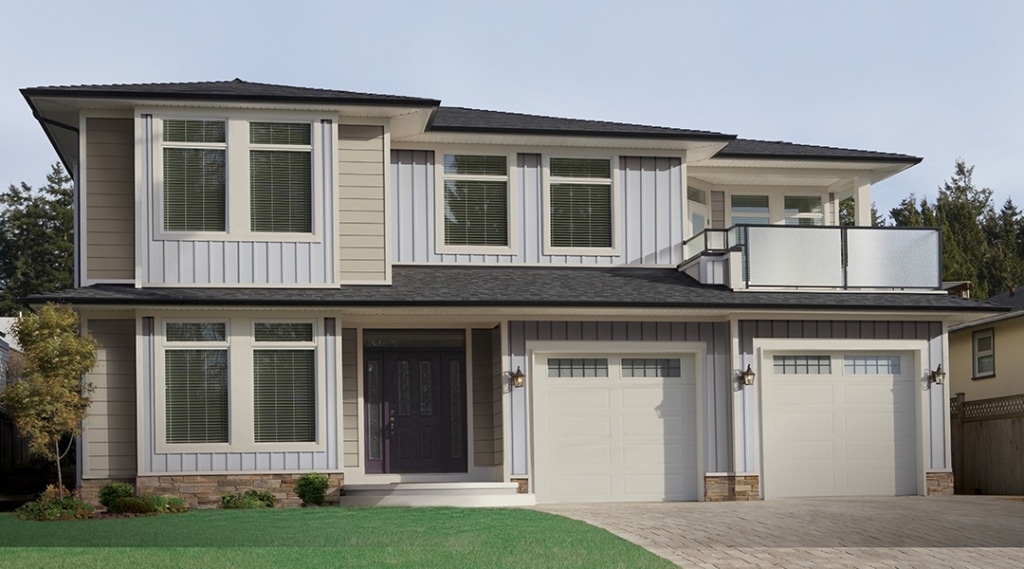 Trick the Eye
You might have certain features you want to either emphasize or tone down. The contemporary home above uses a bright vinyl siding (ice blue) to make its front windows more prominent, giving dimension to its rather flat design. Its overall palette of light tones also serves to make the house appear larger. Generally, light colors will "grow" a feature and dark colors visually "shrink" them. Also, bright tones highlight features and neutrals make them fade into the background. The same goes for roofing—light shingles make the home appear larger and can draw the eye to its best features, while dark roofs are better for hiding imperfections.
Keep home's proportions and scale in mind: bright or dark-colored siding could be overwhelming on a medium or large home. Meanwhile, a light or neutral siding can make a small house seem blah.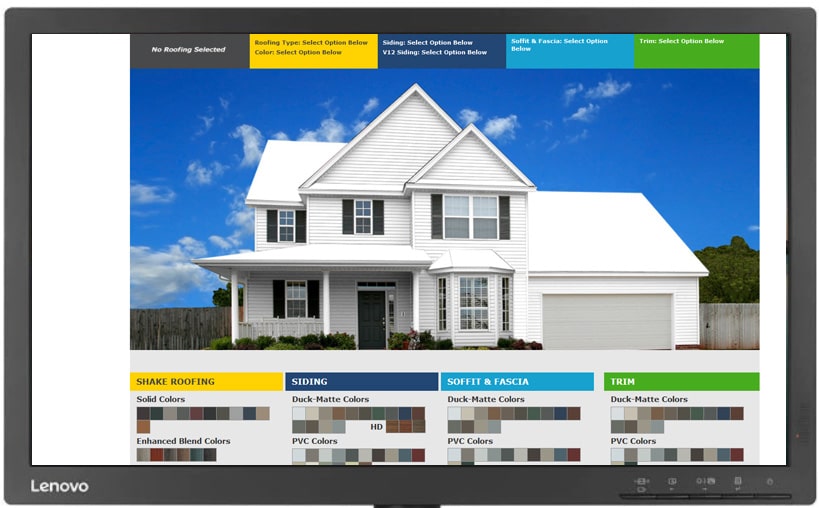 Try a Free Color Selector
If you're anything like my husband, you have a hard time visualizing a color palette, even with swatches in hand. In our case, I take an image of our house into Photoshop to mock up my ideas for him so he can weigh in. If you're not a design pro, however, there are free online tools you can use. The free online color selector shown above lets you pick a basic house style, from small to large, and play with colors of trim, siding, soffit, roofing and more. Even if it's not your exact house, it can give you an idea of whether your color preferences will "play well together" on a real house. Another free tool is James Hardie Siding's Exterior House Color Visualizer … in this case, Quality Built Exteriors can get you the exact siding you see in the tool, since they are an authorized installer of HardiePlank Siding.
Popular Palettes

What Next?
Don't just focus on choosing the right colors—first you need to choose the right company. Quality Built Exteriors has decades of experience pulling together roof and siding projects so that everything works together. They can help you visualize how a color will look in reality v. a catalog page. They will share siding swatches and roofing examples, like the ones below, as they guide you toward the best choice for your unique home and tastes.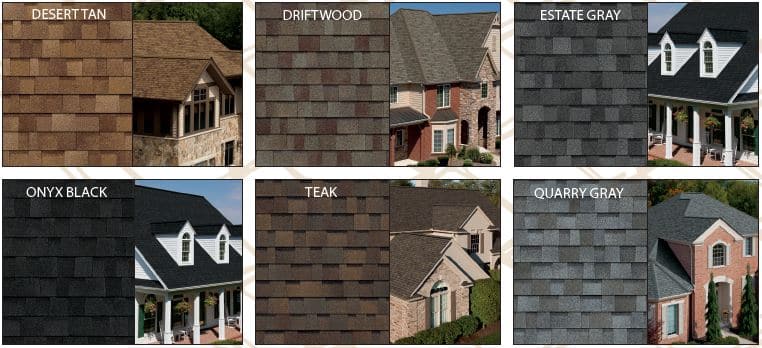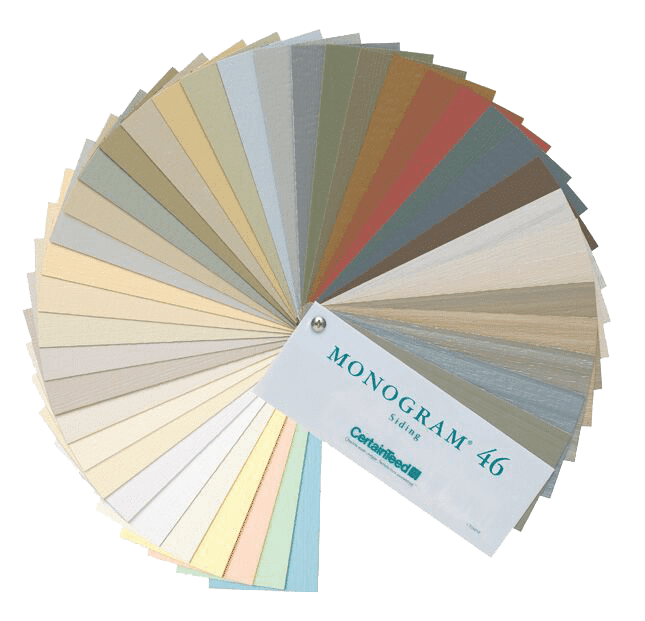 Call Quality Built Exteriors today for a free estimate, color ideas and more!