"Why I Painted My Front Door Yellow"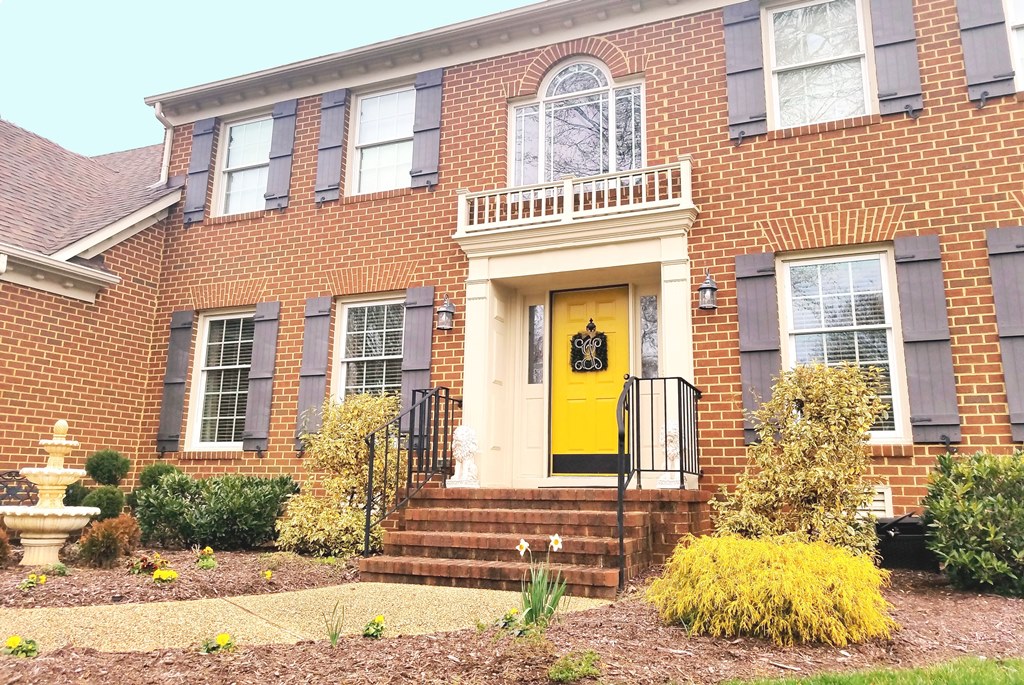 Bold color ideas for better curb appeal
"It'll look fabulous," I assured my husband.
"But… yellow?" he said. My hubby is like most homeowners—he feels most comfortable with safe colors. Expected colors. In other words, boring colors. So naturally, when I suggested repainting our front door in a crisp pear yellow, he balked.
At that time two years ago, our door was the same brown-gray as our shutters. It was a tone pulled in from the darkest bricks in our house front, which I had also mirrored by choosing "Driftwood" as the palette for my new Owens Corning roof the year before. And I loved the color. But it was blah to have so much brown and red.
I decided a crisp yellow would draw in the hues from our mop cypress bushes, pansy border and other yellow-toned landscaping in our yard. I ultimately persuaded my husband to on the idea after I snapped a photo of our house and Photoshopped the door yellow for him to see. And guess what? The first thing people now say when they come to our house is, "Oh, I love your door color!" It's the boldest door on our street, and it's even easier to give directions now: "Second house on the left—the one with the yellow door."
Of course, entry doors aren't the only place that a bold color can make a huge impact on curb appeal. Anywhere from a mailbox to a front porch swing could be the spot where you incorporate a splash of color. Notice though that I said "a splash." I personally do not advocate making your entire house wildly colorful—that risks shifting you into the zone of roadside freak show. Sometimes that can even happen by accident: When my husband was a kid, his next-door neighbors repainted their house in what they thought was going to be a soft mint, but ended up a blinding seafoam. Even though the HOA had approved the color swatch, no one realized how the complete paint job was going to turn out. The house was the laughing stock of the neighborhood for years… perhaps that's the true root of my hubby's color shyness!
Another advantage of keeping the color to limited areas is flexibility. Repainting an entire house is expensive, so you end up living with that color for more than a decade (case in point: my husband's old neighbors). But repainting a door or changing out an accent pillow? Easy and affordable.
So, how can you incorporate a splash of bold color into your curb appeal? Here are some inspiration photos:
---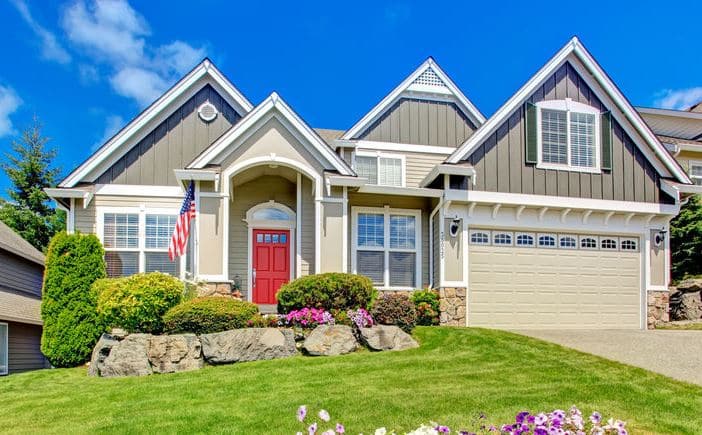 Entry Door
I love how this red front door complements the flag! It really pops against the neutral "greige" siding. It also shows us how impactful a colorful front door can be on a smaller house.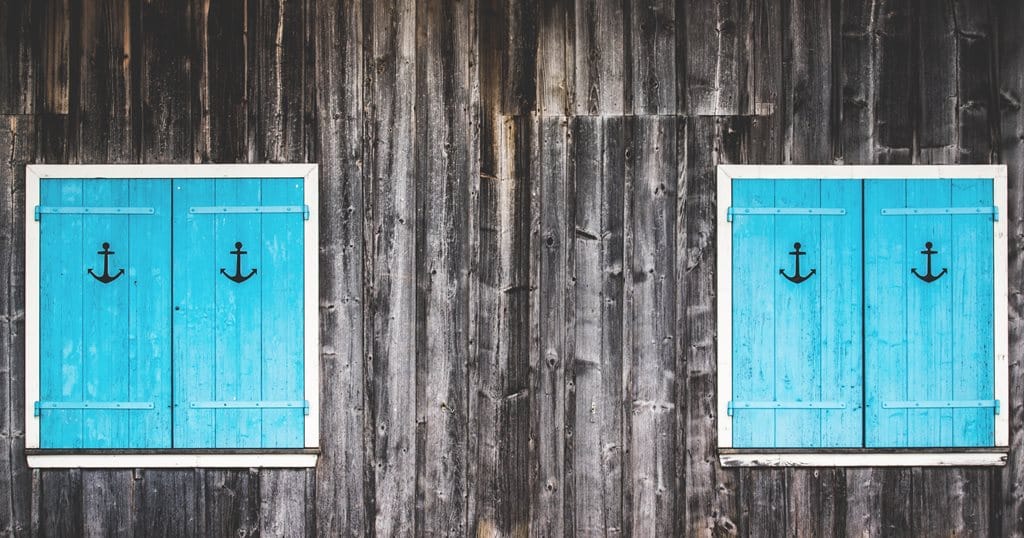 Shutters
I like to think of shutters as makeup for your house … this set makes the windows an instant focal point. This rustic home used real working shutters with an anchor cutout, and painted them a striking Caribbean blue.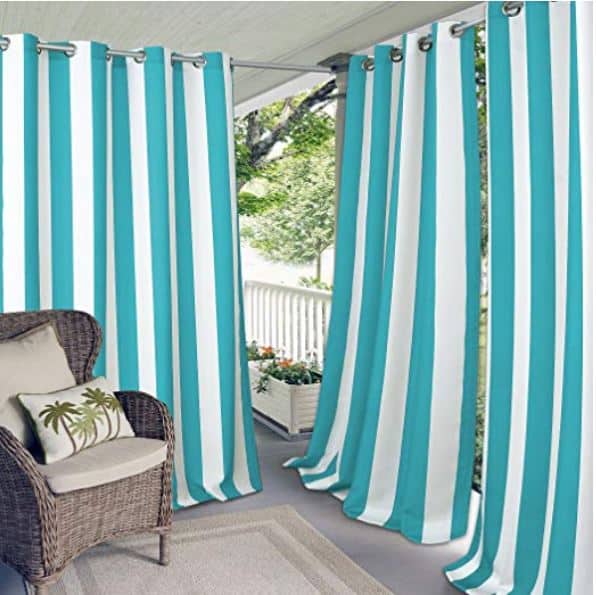 Curtains
Awnings aren't the only way to hang colorful fabric out front. String up some vivid curtain panels to frame out your front porch and invite both the eye and the visitor. This home uses striped aqua curtains, which can be purchased on Amazon.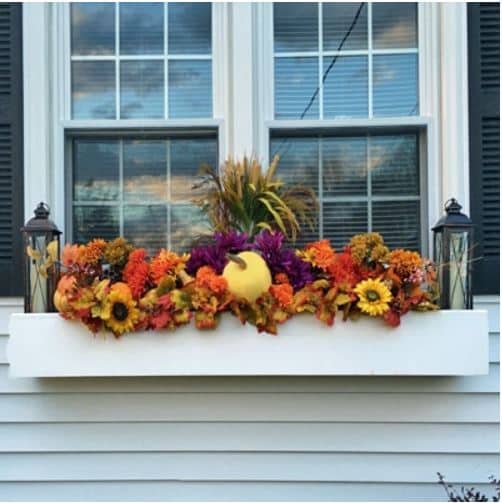 Window Boxes
You could paint the window boxes themselves a bold color, or you can fall colors. Just purchase a pre-made one online, such as this one from FlowerWindowBoxes.com, or have Quality Built Exteriors create custom window boxes for your home and paint them any (crazy!) color!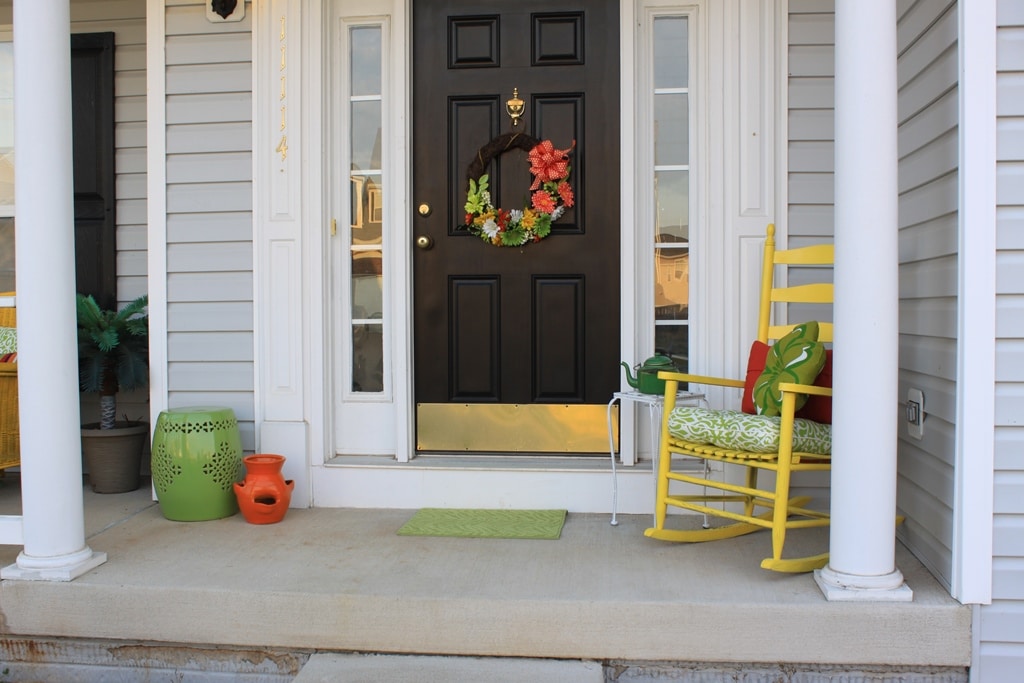 Planters
Instead of colorful flowers in a plain container, why not try brightly colored pots and planters (plants optional!)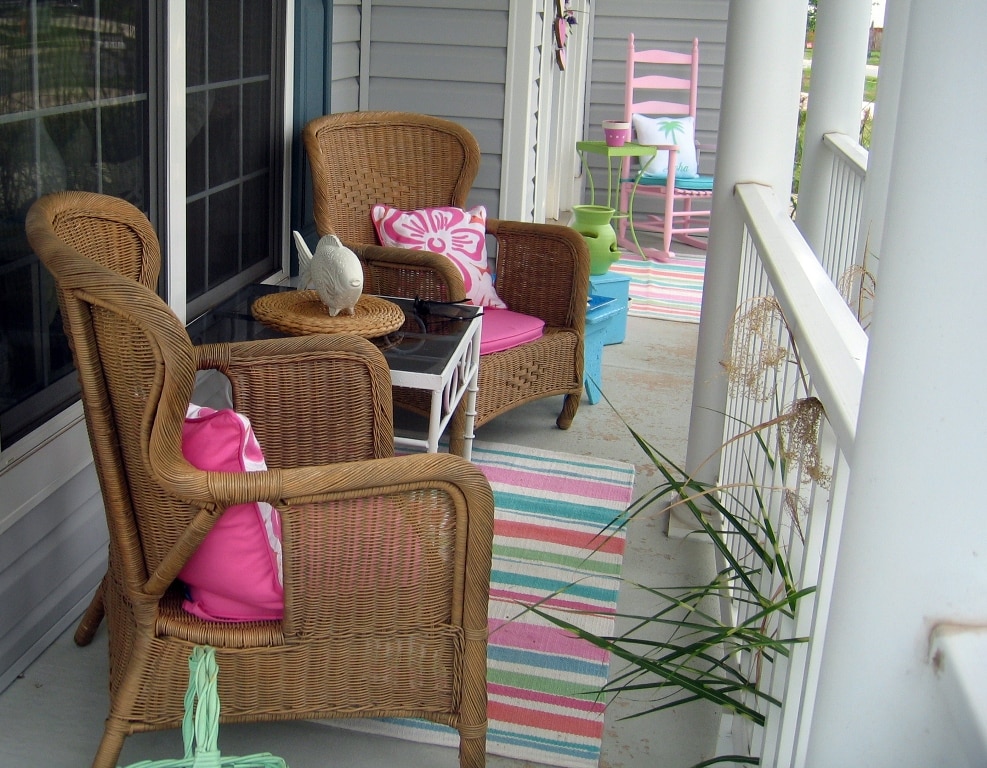 Floors
Your front porch flooring is more visible from the street than you realize… and you'll really notice it once you try an eye-popping color across it! A rug is all you need… though for wood porches, it's an even nicer touch to paint the floor and handrails a bright, matching hue. Guests will be floored!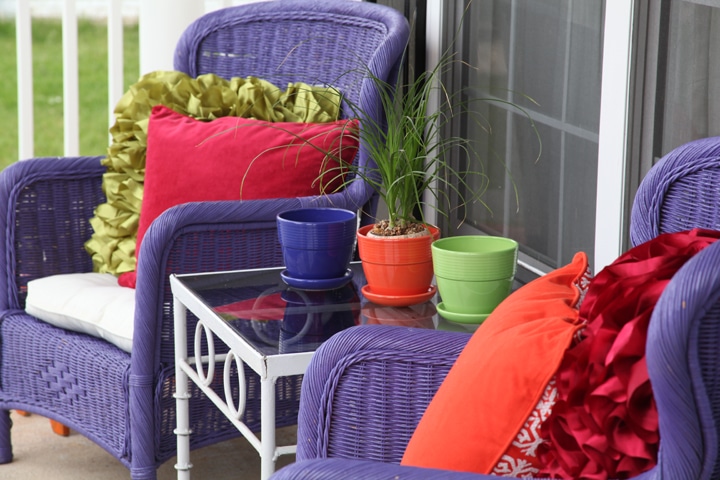 Seating
All it took was a can of purple spray paint for this homeowner to have a seating area that's a work of art!