Roof Leak? What NOT To Do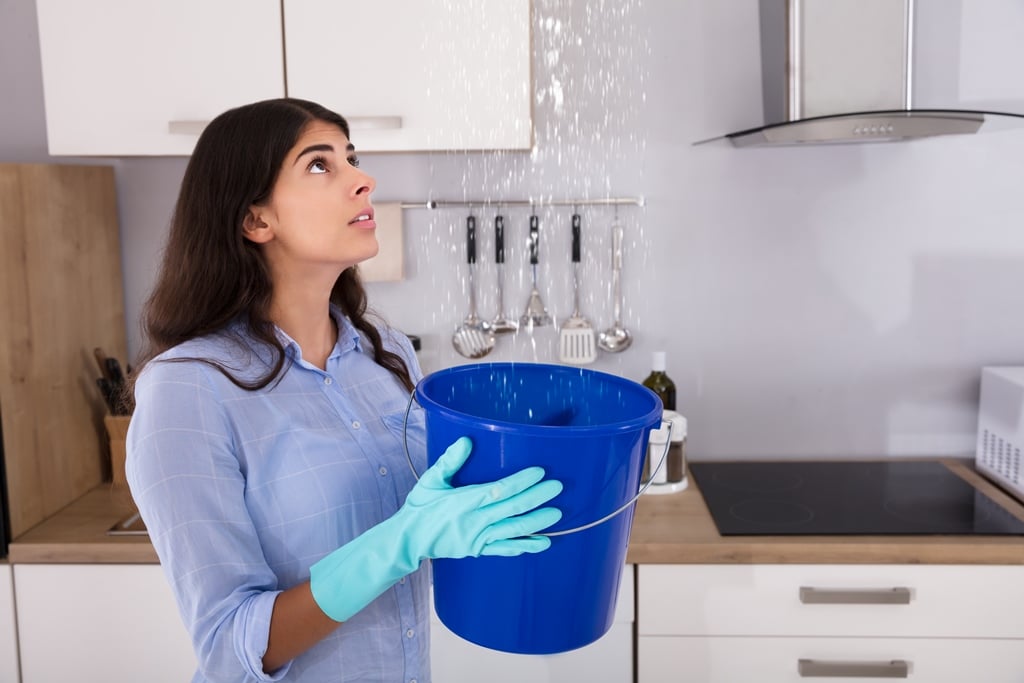 While "roof leak" brings the rainy spring season to most Hampton Roads homeowners' minds, you need to think earlier. Winter weather can be just as big a culprit, as Quality Built Exteriors knows well by the number of emergency roof repair calls they receive this time of year. Causes range from ice dams on the roof, to condensation in the attic, to poor flashing.
While generally all roof leaks are an emergency situation, you'd be surprised how many homeowners avoid getting them fixed—or make missteps that result in even worse damage. So it's worthwhile to educate yourself on what NOT to do what when you find yourself with a leaking roof:
1. Ignore the problem
Maybe you're hosting company, or the drip is so slow that you decide it isn't urgent. Perhaps you've budgeted for a new roof next year and figure it can wait until then. In a matter of hours or days, small roof leaks can create big problems:
Stained ceilings and walls
Blistered and peeling paint
Mold growth
Dangerous bacteria breeding in water pools
Rotted wood in beams and trusses
Soaked insulation and eventual ceiling collapse
Damage to your home's electrical wiring system
A roof leak is something that will not go away or fix itself, so it pays to take action immediately.
2. Leave your belongings exposed
You might be so focused on looking up that you forget to look down… at your stuff that's getting wet. Act promptly to protect your home interior and household goods. Put plastic coverings over furniture, remove electronics and other valuables from the affected room, and elevate or cover items you can't easily remove. Roll up rugs and put plastic over your carpeting.
3. Let the water seep in
Water will always follow gravity, which means it will continue to move deeper into your carpet padding and subfloor. You should try to contain the falling water as much as possible, using buckets or bins (I've personally used a large cooler to catch the leak). I've read that you can even hang a long string near the leak to draw the water out of the room or into a bucket. If paint on your walls or furniture is bubbling, that means it's probably holding water—puncture the bubbles to release it.
4. Assume your belongings will dry out
Once you have the leak contained, you need to REMOVE the water from all exposed areas. It's important to thoroughly dry your carpet, woodwork, upholstery and anything else that might have absorbed water. Use a Shop-Vac if you have one (my family owns an electric mop that's great for sucking up water). Run ceiling fans and box fans, and hang up rugs and fabrics to circulate air through them. If the damage is significant, you might need to call a professional water extraction company.
5. Call the first contractor you can find
While I applaud your effort to get someone out as quickly as possible, there are a number of contractors who specialize in roof leaks, so take a few extra minutes to figure out which ones are reputable, then you can choose whom to use based on availability and/or the price quote. Getting a dishonest or unskilled roof repairman could lead to new problems—which is the last thing you need right now!
Here's what a professional roofing contractor should have, according to the National Roofing Contractors Association:
A permanent place of business
Knowledge of various roof systems
Proof of insurance and an effective safety program
Evidence of industry professionalism, such as proof of training, manufacturer certifications, association membership, business account balance statement, etc.
Continuing industry education
Financial stability
A written proposal
A license and/or be bonded
Warranties
References in your state
A maintenance program
The association says to beware of a contractor whose references are all out of state or who only wants cash.
6. Forget to call insurance
Calling your homeowners' insurance is a must, and you also need to take photos to document the damage. It's possible they won't cover this type of damage, but better to check!
Here are insurance claim tips from the National Roofing Contractors Association:
Prepare to file an insurance claim by gathering copies of your homeowner's policy, or track down your policy number(s), and call your insurance company as soon as possible after the event to request an assessment. The insurance company must determine two things when assessing the amount of your loss:

Is there sufficient damage to the roof system to declare it a total loss?
What is the size of the roof system, and how many shingles will be needed to replace it?

Your insurance company may or may not select your roofing contractor for you.
You should call a professional roofing contractor and ask for a similar assessment. To locate a professional roofing contractor, click here. If there are any discrepancies between the insurance adjuster's findings and the roofing contractor's findings, you may request a reinspection. During a reinspection, the insurance adjustor meets with the roofing contractor to review your roof damage together. Reinspections are common.
In a situation where a widespread disaster has occurred, the insurance company may establish special procedures. Keep your receipts for temporary repairs because your insurance company is likely to reimburse you. If your home is uninhabitable, find out whether living expenses will be reimbursed.
7. Assume it won't happen again
You might have gotten the first roof problem fixed, but that's no guarantee another one won't pop up. The National Roofing Contractors Association recommends getting your roof inspected twice a year. In between, watch for warning signs before a leak ever occurs:
Watch inside for
Dark spots
Outside light shining through
Sagging areas
Watch outside for
Shingles that are missing, warped, rotting, peeling, broken, blistering, or buckling
Clogged or slow-draining gutters and downspouts
Loose material or wear around chimneys and vents
Repairing a roof leak is rarely a DIY project, and addressing the aftermath of a water emergency also requires professional attention. If your roof is under 15 years old, it can probably be spot-repaired instead of needing a complete replacement. If it's older, you might want to get a quick patch job and then invest in a new roof. Quality Built Exteriors will be happy to give you a free estimate, just call 757-389-5519.