Should You Add a Pergola? Probably.
Jerry Seinfeld never did a bit on pergolas (that I know of), but it's easy to imagine: "What's the deal with pergolas? They go over your head like a roof… then, when it starts raining, they just stand there while you get soaked."
And yet… people love pergolas! So do I. There are actually a lot of benefits to having one, even if many are largely cosmetic. If you're reading this article, you might be already considering one. And that's one of the strongest indicators you should go for it: if you want one, get one. Simple as that! Low in cost and high in flair, pergolas are easy, gorgeous structures that instantly step up any outdoor space.
Pergolas come in many forms, but the unifying feature is an open lattice of crossbeams that go overhead. The name comes from the Latin pergula, which refers to a projecting eave. That includes a single, narrow pergola attached over your garage door as well as a large freestanding one over your backyard patio.
If you want to compare the difference a pergola makes, there are great before/after photos on Pinterest. Whether you hire a local builder to construct a custom wood pergola, or opt for a maintenance-free vinyl pergola, there's a style for every space—and every budget. You can even get a prefeb one online, though you'll still probably want a professional to install it.
What's so great about pergolas? They: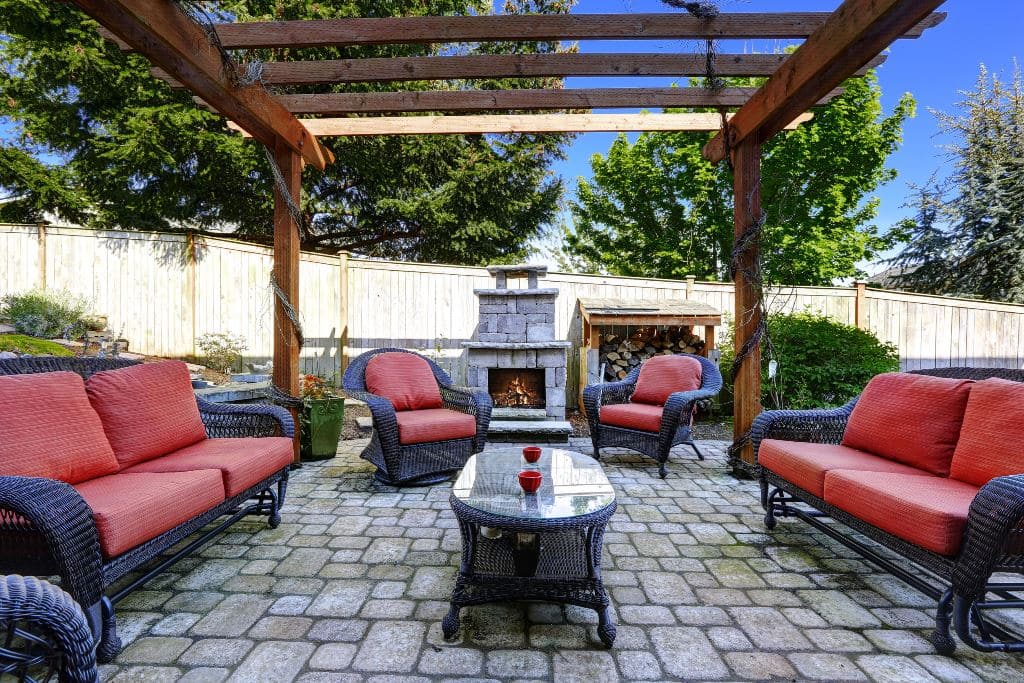 Define a space
As more homeowners create multiple areas within their yards—children's play space, dining space, conversation pit, recreation area—they often seek ways to delineate one area from another. A pergola literally puts boundary lines around an area and makes it feel more intimate, like the conversation area above. What a perfect spot to sit by the fireplace with friends on a late fall evening!
---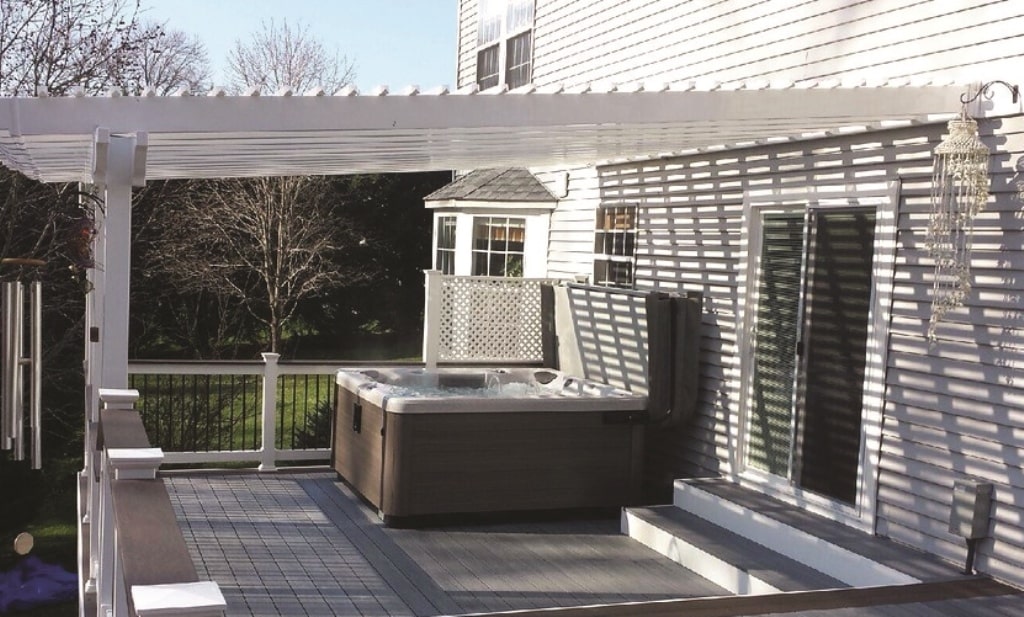 Add privacy
Sometimes you just need a subtle barrier rather than a solid wall/roof. Areas like this deck with hot tub are easier to enjoy with a surrounding that partly obscures neighbors' sightline without blocking the sights and sounds of nature. Plus, the white vinyl pergola goes beautifully with the home's Trex deck and vinyl railing.
---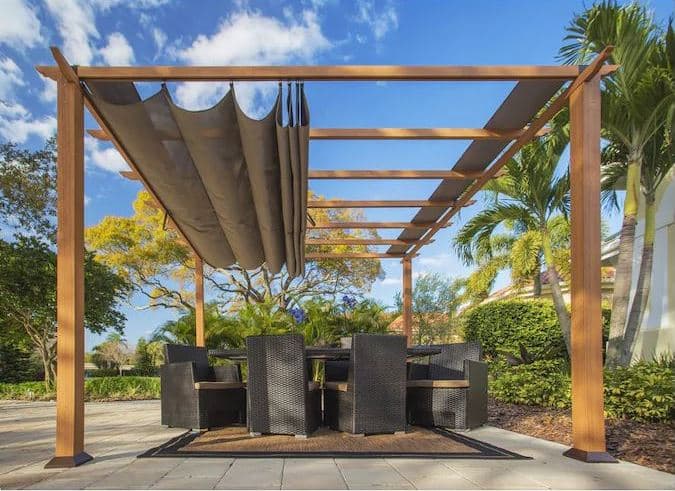 Block direct sunlight
While less protective than a porch roof, pergolas still offer a significant level of protection from the sun's heat and skin damage. You'll enjoy some shade while also getting a dose of vitamin D. Though if you want fuller coverage without the cost of a roof, you can purchase a canopy that hangs below your pergola… many can be opened and closed with a retraction line. This metal pergola from Lowes shown above comes with the canopy included.
---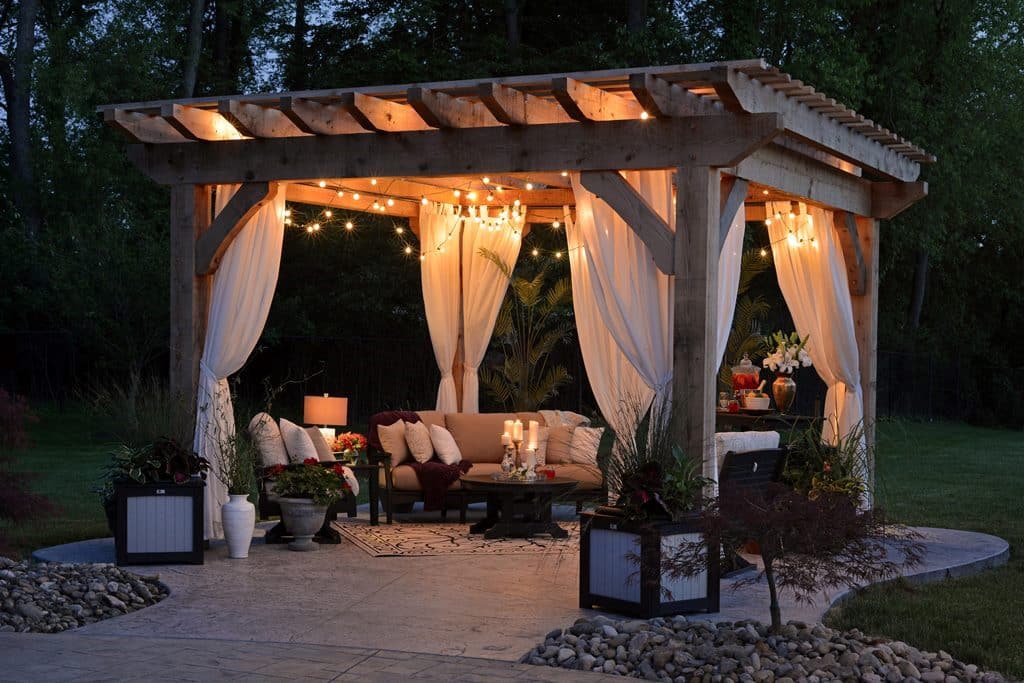 Provide an entertainment area
Pergolas are seen in some of the most stunning outdoor spaces you can find in decorating magazines, Houzz.com, and pretty much anywhere you might turn for home exterior inspiration. I think their versatility is one reason for their popularity. You can put them on concrete patios, wood decks, off the side of the house, freestanding in the yard… and that's just location! There are also myriad ways to dress them up. I just adore the one in this photo, where much of the ethereal effect comes from simple sheer curtains and string lights (Amazon sells many styles of solar-powered string lights, so you don't even need a cord across your yard! I also love solar-powered chandeliers on a pergola). Quality Built Exteriors could create this exact space for you, complete with the stamped concrete slab, rock beds and pergola, so it's more accessible than you might think! Imagine spending the evening here with friends and family.
---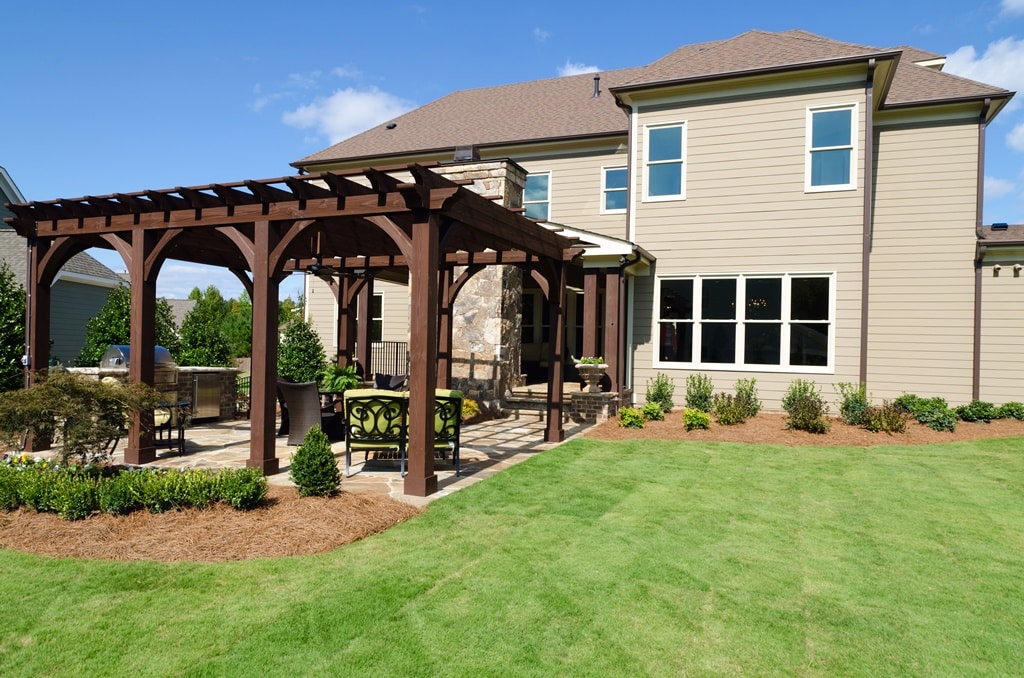 Increase home value
Many home experts say backyard improvements get a 50-80% return on investment, and can add as much as 20 percent to your home value. Of course, you can't have a trashed yard and then put up a pergola and expect magic, but pergolas can take decent landscaping to dazzling. Look at this photo and imagine the pergola removed… the yard becomes very blah, since it's just small shrubs and a basic slab with furniture. The pergola makes it look like a true outdoor living room and is really the highlight of the space.
---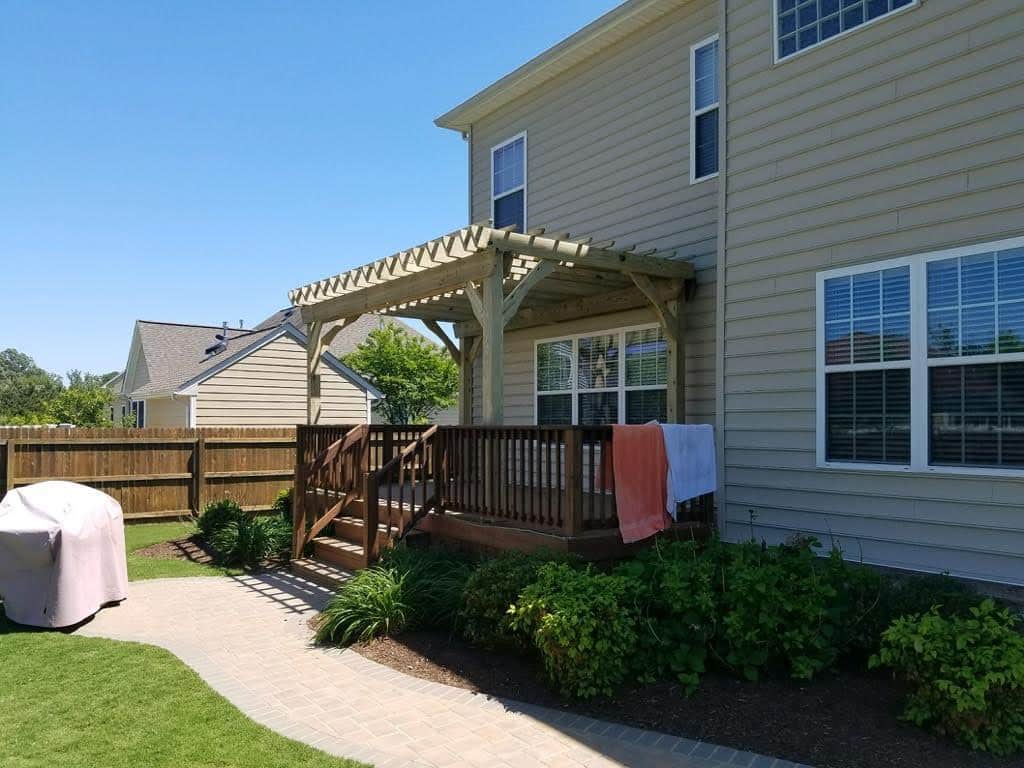 Are affordable
Have you priced out the cost of adding a covered porch or a gazebo? Pergolas are just pennies by comparison. That doesn't mean they're free, of course, but if you're looking to get the most bang for your buck, or have a limited budget, pergolas really perform. According to Thumbtack.com, the average national cost for a pergola runs from $1500 to $7500. Most likely the high end will feature fancy upgrades like smart louvers, which close to become a solid roof when desired.
---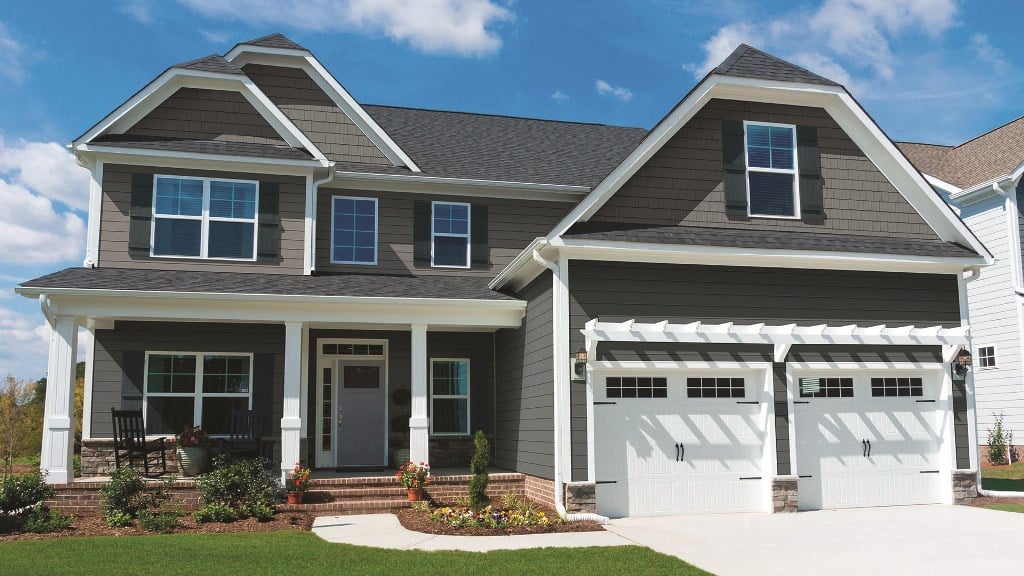 Instill character
As you've seen in most photos here, big pergolas make a big impact on a back yard. But don't forget the importance of small pergolas (often called a trellis or arbor, but incorrectly) for adding a small but powerful dose of curb appeal out front. In this photo from our siding supplier, the area above the garage would have been awkwardly blank, but the pergola turns it into a real focal point. It doesn't serve any practical purpose, and yet the home would look much less attractive without it.
---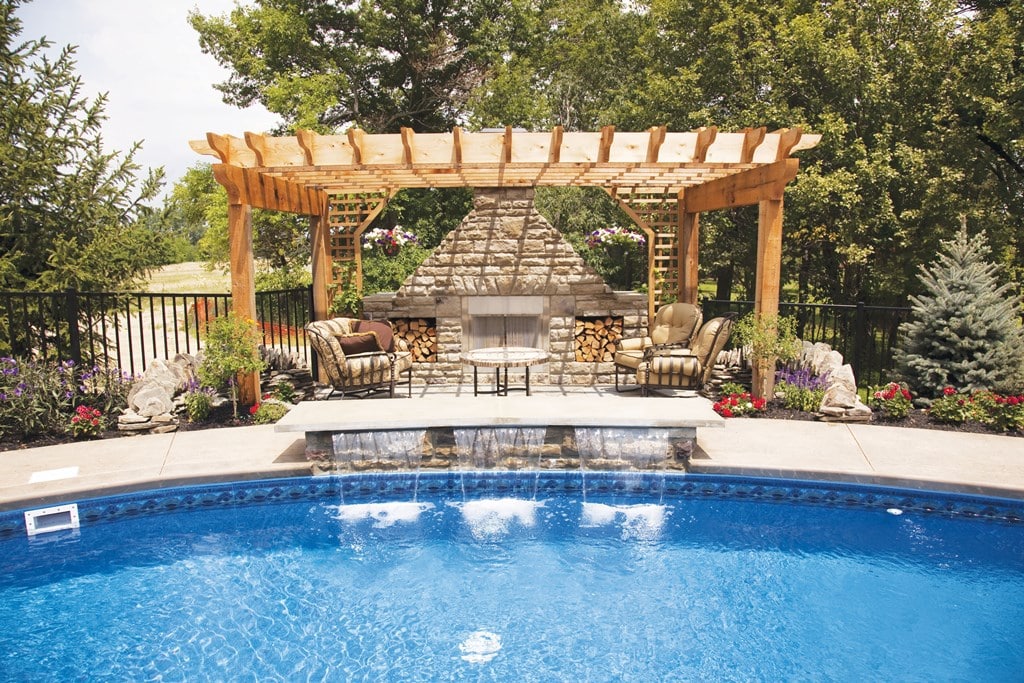 Can be combined with other structures
As another gift of their versatility, pergolas are master integrators… in other words, they pull different spaces together. Here, a pergola unites the pool, concrete, and fireplace into a killer outdoor living space.  A pergola can also serve as a lead-in between a gazebo and your back door, or frame the sidewalk up to your front door. And pergolas nearly always work as an add-on, meaning it doesn't have to be part of your original space or design. They take up scarcely any floor space (just two or four posts!), so the area they consume is just dead air.
---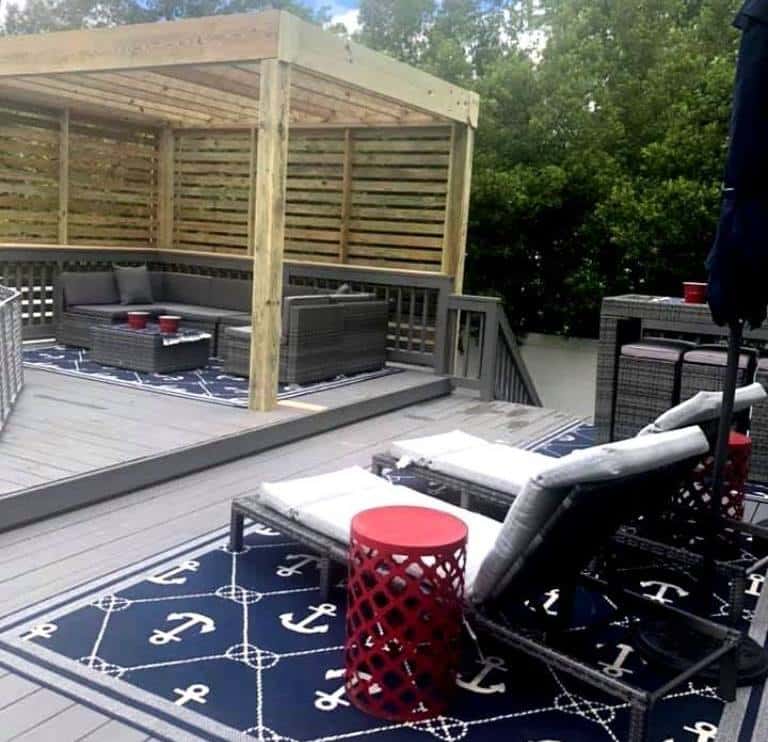 Are easy to customize
Because the form of a pergola is so basic (posts and beams), they can be done in just about any shape or style. The one above was crafted by Quality Built Exteriors, meeting a very specific vision of the homeowner for a more contemporary, more private design. We took this photo before it was stained, but that makes it easier to see how much it changed the existing space.
---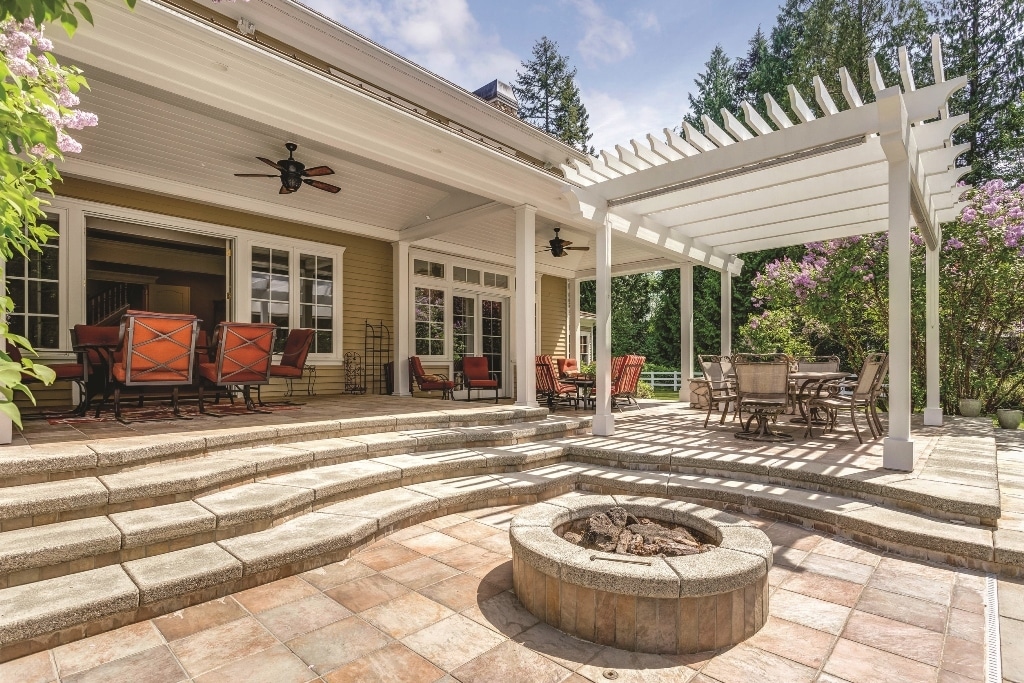 Extend your living area
If you already have a covered porch, you might think a pergola would be pointless. But back to the earlier point about combining with other structures, a pergola can extend a space you're outgrowing. Above, the homeowner clearly likes to entertain, with so many sets of tables (perhaps a large extended family?), so a pergola made room for one more dining set with sun protection, and certainly added more visual interest (and less cost) than building out more roof cover.