Seamless Gutters Have More Benefits Than You Can See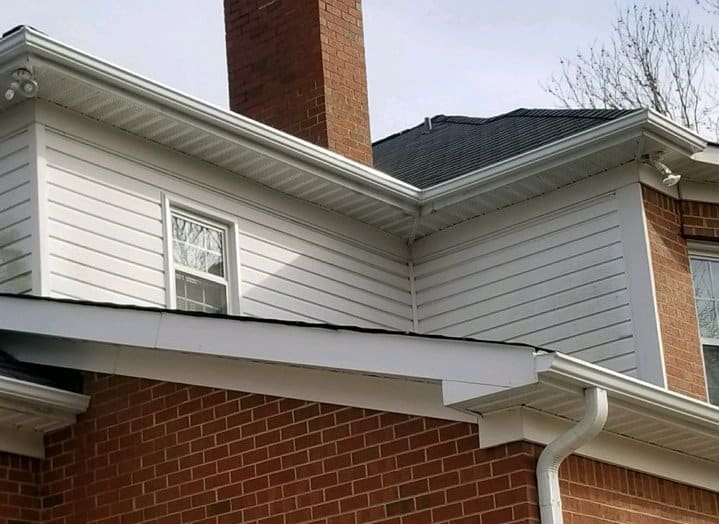 Time to get your mind in the gutter! Gutters might not seem like a very exciting topic, but on a house with failing gutters—or no gutters at all—you might face more action than you bargained for. The fact is, we don't usually think about our gutters until there's a problem. But gutters are essential for directing water runoff from your roof away from your home. They protect your mulch and topsoil, keep your crawl space dry, prevent dirt backsplash from staining your siding, and preserve your windows, doors and wood from rotting.
Sectional v. Seamless Gutters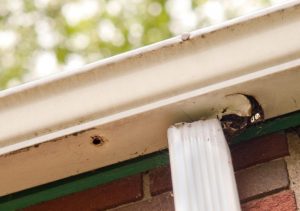 The traditional gutter system, sectional gutters are what you'll find on most homes—especially older ones. They come in sections around 20 feet long that are cut to order by a homeowner or contractor. They usually snap together with silicon gaskets, which are susceptible to breaking over time. They will need to be repaired or replaced each time one fails, so you need to keep checking every connection point on a regular basis. Not only is this a hassle, but you will incur costs for the repairs, as well as for damage caused by breaks you don't detect soon enough.
A far superior product, seamless gutters are an investment that will pay off in the long run—and look better instantly. Seamless gutters are continuous pieces, whose only connecting points are at the corners and downspouts. That means fewer potential points for leaking. The lack of sections also means a smoother, cleaner look and much easier cleaning.
The Best Material For Gutters
Quality Built Exteriors installs seamless gutters made from aluminum with a vinyl coating. This best-of-both-worlds material combines the color choices of vinyl with the rust-free maintenance of aluminum. It's a better choice than other gutter materials on the market, such as plastic (which can leak, crack and fade due to sun damage) and galvanized steel (which will rust). With such a large gutter color selection, you'll find a close match to your trim paint color, or your trim and soffit wrap. Best of all, Quality Built's vinyl coating comes with a lifetime guarantee—50 years!
Thickness Counts
Most gutter contractors use the standard 0.027" gauge metal, but Quality Built Exteriors' gutters are a more substantial 0.032" gauge. This thicker material is less susceptible to wear and tear—from ice damage to getting struck by a basketball. They also hold up better to ladders being placed against them, and those times a fat squirrel or chipmunk decides to hang from the edge! In addition to being much stronger, the thicker-gauge metal creates a smoother, cleaner look after installation.
Invisible Screws and Hidden Hangers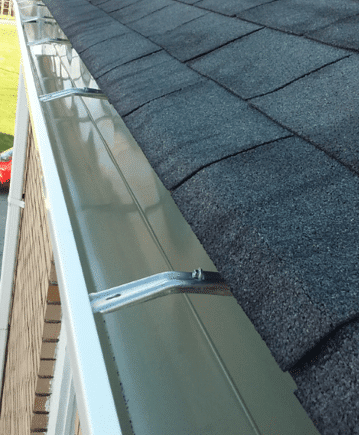 Traditional gutters are nailed into place using spikes and ferrules, leaving ugly nails dotted along your gutter line. Not only are they unattractive (and quick to rust!), but they attach your gutters in the weakest possible way. Quality Built installs seamless gutters using internal screws or "hidden" hangers.
With screws (which by default are more secure than nails), the gutters are fastened securely to your home's fascia from inside the gutter. The internal hangers allow your gutter to "float" against the house, expanding and contracting with the temperature. Traditional nailed gutters can leak as the weather changes. These installation methods are more expensive, but can save money in the long run—with traditional gutters, nail spikes will start coming out over time and need repairs.
Custom-Turned Downspouts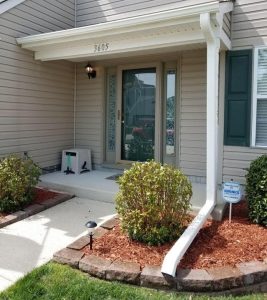 Every home is shaped differently, but a lot of gutter companies will take a one-size-fits-all approach to gutter downspouts. That can lead to leaks, unattractive layout and eventually, breaks. Quality Built Exteriors hires metal specialists who hand-make each downspout to fit your home exactly. Their downspouts are also oversized, handling 70% more water and taking the pressure off your gutters in a large storm.
Experienced Gutter Installers
Quality Built Exteriors gets many gutter repair calls after storms, reports owner Mike Reedy, since homeowners with traditional gutters from other companies find they have ripped off the house (along with their trim) when the water load got too heavy. This especially can happen when an installer uses the wrong kind of nails. Sometimes it's a matter of cutting corners or using an inferior product, and other times the installer simply doesn't know any better. When you hire Quality Built Exteriors as your gutter company, you are getting experienced, expert metalsmiths who understand the physics and aesthetics of proper gutter design. Their goal is to give you an attractive, long-term gutter solution—not to make a cheap estimate and quick sale. In other words, you get what you pay for.
Whether you go with the standard 5" seamless gutter (right), or the 6" oversize option (left), you'll find quality products and quality installers when you hire Quality Built Exteriors. I was certainly pleased with the retrofit they did on my house's original gutters, installing hidden hangers when the rusty nails started to fail. Trust me, go with the good stuff the first time! Give them a call.