Ideas to Dress Up Your Deck
Your backyard deck is a bonus living space for your home—so it needs to look livable. Whether you purchased a home that already has one or decided toget a deck installed, you might be missing your deck's potential. A lot of homeowners look out at that wide expanse of wood (or composite Trex) and feel uninspired. Some just stick a grill there, maybe a table with a few chairs, and call it a day. Some give up and use it for storage.
But from one Hampton Roads homeowner to another, I encourage you to try adding at least a few more details, and see how much more you enjoy spending time on your deck. Deck-orations can be inexpensive… Big Lots always surprises me with their selection of affordable and attractive outdoor accessories, and At Home is also one of my go-to stores for a deal.
Here are some fresh ideas to turn your basic deck into a beautiful living space. The first three are from my very own backyard deck in Yorktown, which was completed by Quality Built Exteriors: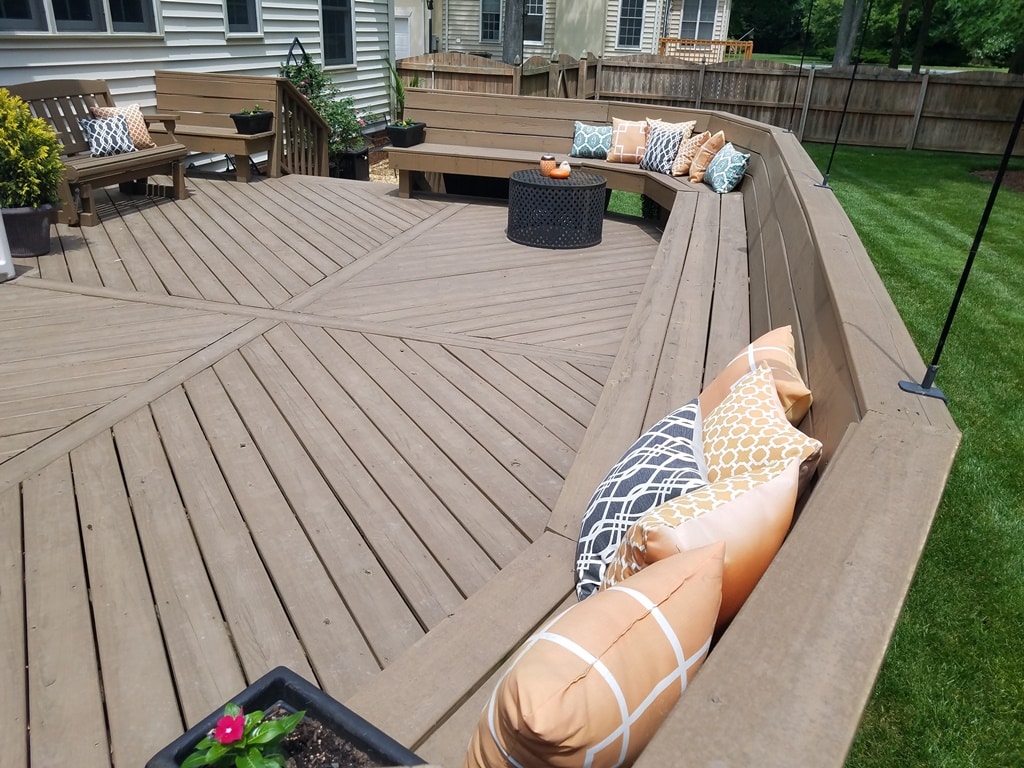 Be Plentiful with Pillows
Pillow serve double-duty as accent color AND adding comfort. They also create an "indoor" feel for your outdoor space. As you can see on my own deck above, I added them to our wood glider as well as the deck's wraparound bench. Placing them ALL the way around would have been overkill—as well as overexpensive and a pain to keep resetting—so I clustered them at the turning points of the deck. I leave them out year-round, so even when it's too dang cold to go outside, I can admire the effect from my kitchen window. I spray them down occasionally, and some have removable covers that I can wash. They were purchased from Etsy, eBay and Walmart, so I spent less than $8 per pillow.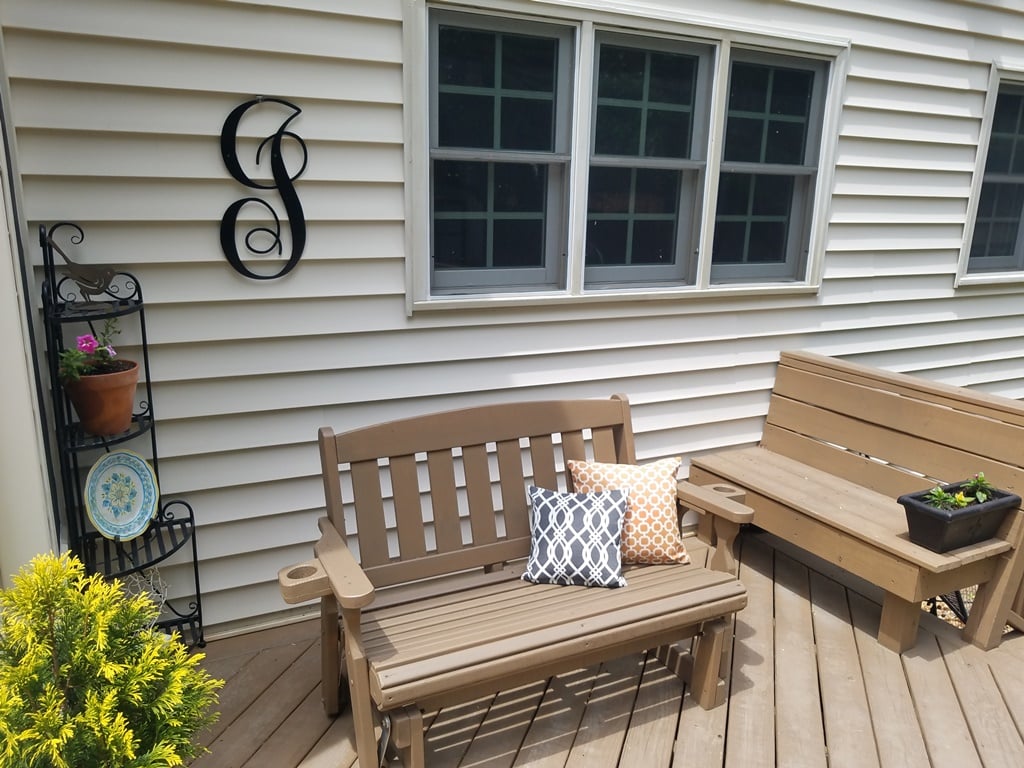 Hang Wall Art
Think of your outside walls the same way you think of walls inside your house. Fill blank spaces with pieces that make your deck feel more personal. But I don't recommend putting holes in your siding if you can avoid it! I used siding hangers above to install our curly J monogram. I added a corner shelf for a place to display additional accent pieces. The art, shelf and glider are closely situated as a trio, pulling the space together.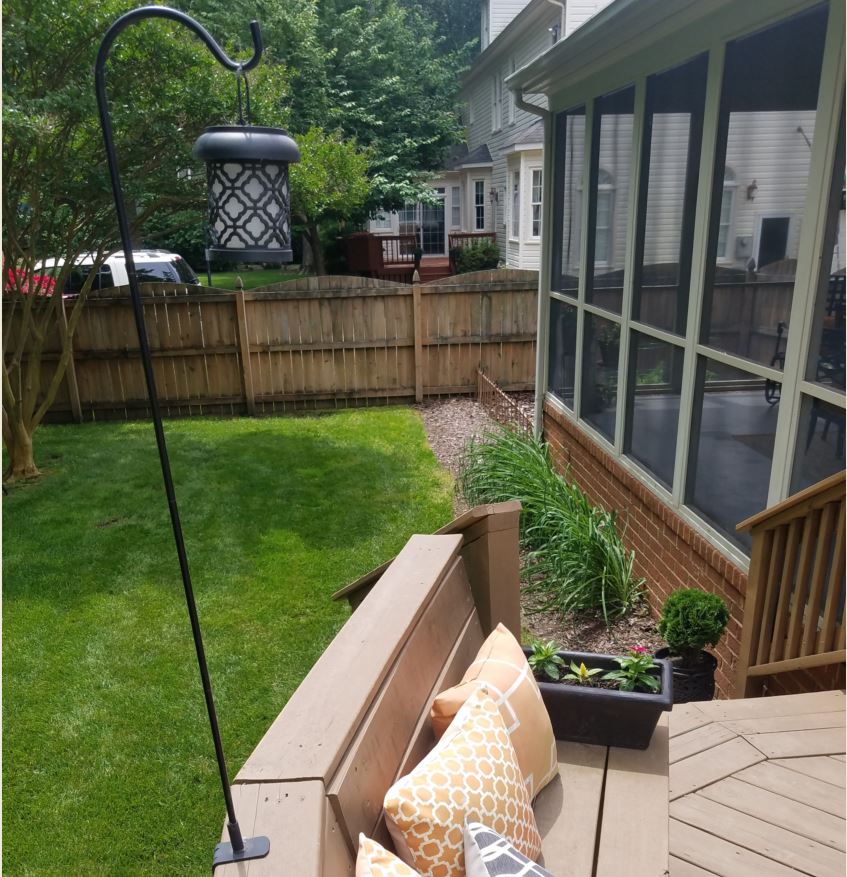 Let There Be Light
Just as with indoors, lighting really makes the mood of an outdoor space. I like using fixtures that add visual appeal even when unlit during daylight. For my deck, I installed clip-on shepherd's hooks around the perimeter of the railing, with a solar lantern on each one. By day they draw the eye upward to the rest of the yard and further define the space; by night they create a soft glow. If you have an overhang or pergola over your deck, be sure to check out the many pendant lights and chandeliers on the market that are battery or solar powered. Big Lots usually has a nice selection of battery-operated hanging lights. As another option, you can have Quality Built install hardwired lights in your deck railings or stairs.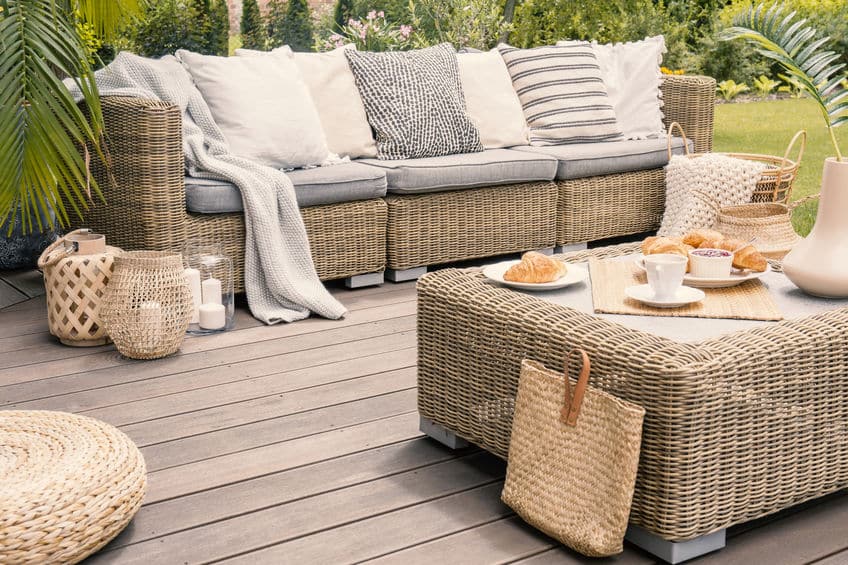 Make It Comfy
Again, putting in layers of décor will make your deck feel more home-like. The space should be inviting for your family and your guests to relax. The deck above neutral colors, different textures, and a cozy throw to invite you in.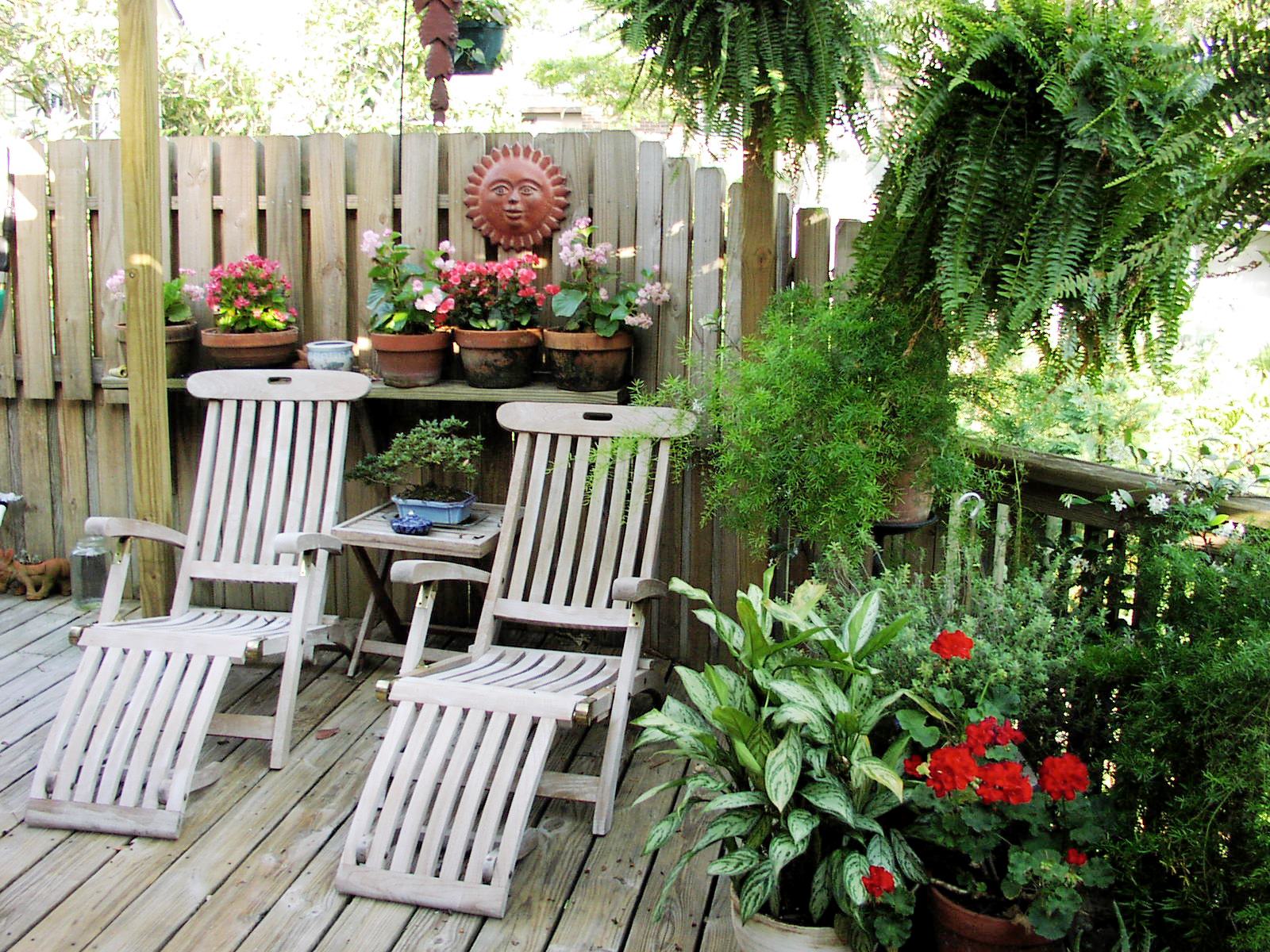 Stay Green
Think of your deck as the place where the outdoors and indoors meet. Sprinkle potted plants throughout your deck to pull in the green from your yard. You don't have to just stick with flowers. I like to include some evergreen plants like arborvitae, so the space will still look lush in the winter.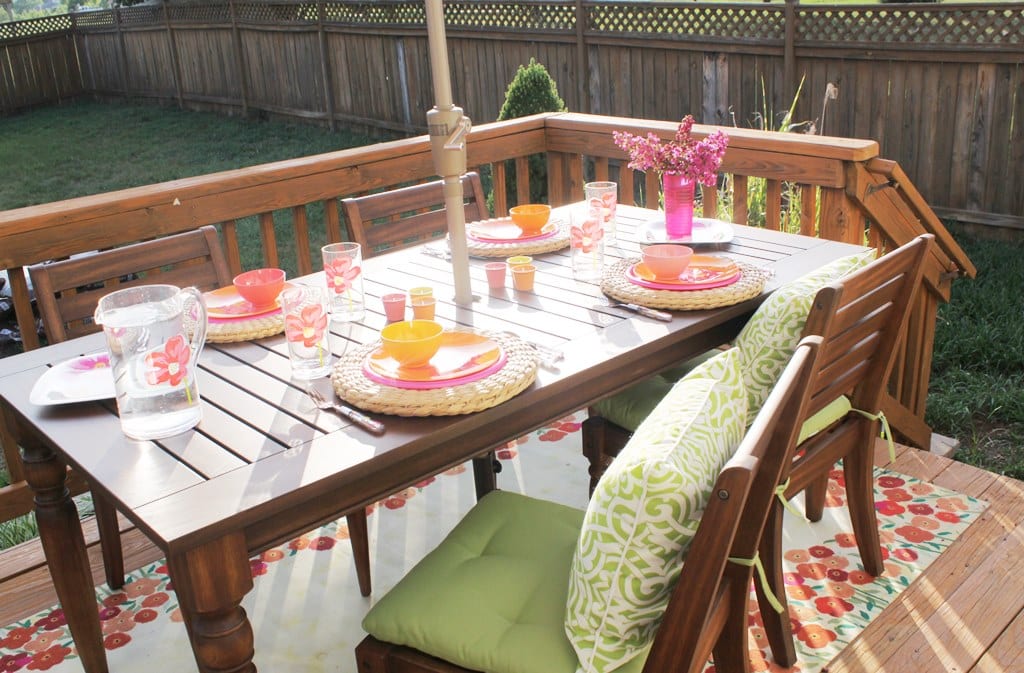 Roll Out a Rug
This poppy deck room is anchored by an area rug. Outdoor rugs are easy to clean with a hose and are especially handy on decks because there will always be a space between slats for water to drain (unlike the rug on my screen porch, which remains soggy for days after a blowing rain!).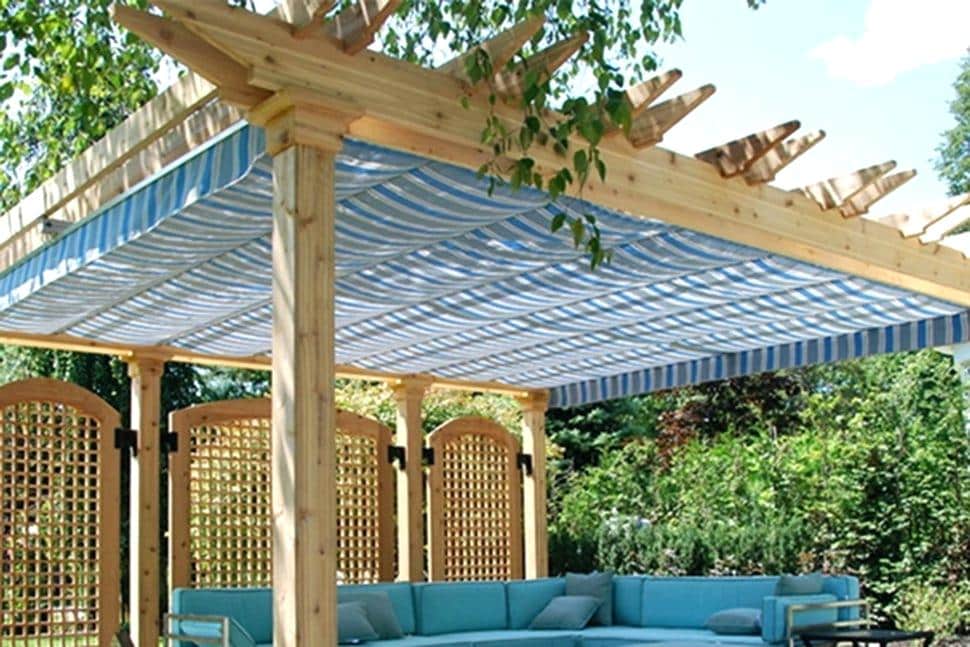 Cover with Canvas
If you have a pergola, consider adding a fabric awning for both increased sun protection and added drama. This image shows how you can color-coordinate the awning to your outdoor furniture. No pergola? No problem. You can use poles or anchors from the sides of your house to string up a swath of fabric.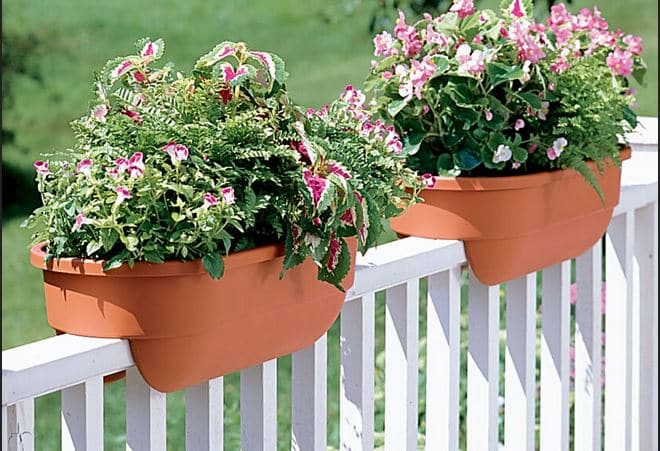 Accessorize Your Railings
Whether your deck has aluminum railings, vinyl railings or wood, there are many planter styles that can be installed atop or aside the rails, such as the ones above from gardeners.com. Adding planters at this height creates more layers of color (and therefore luxury!) on your deck. Plus, no bending over to prune and water!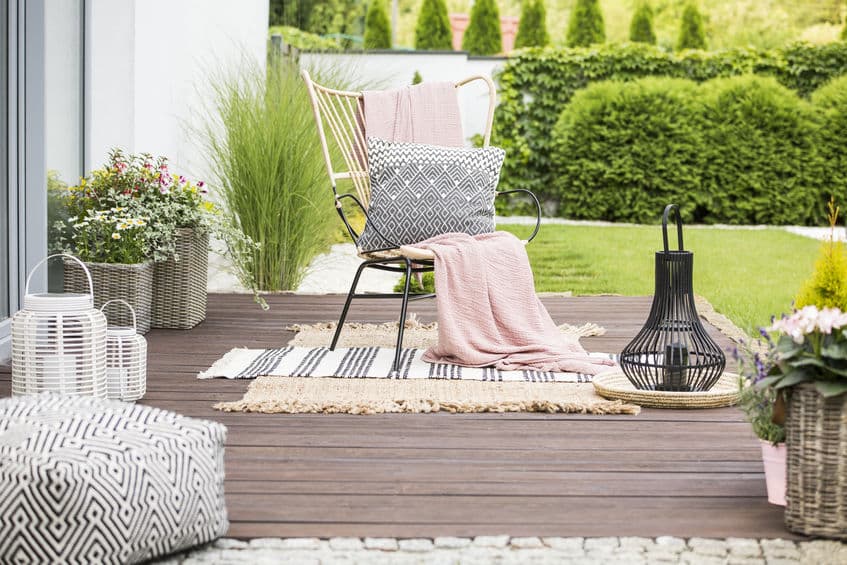 Finish With Accents
Little details can make a big impact. Don't get so focused on big furniture pieces and planters that you forget to add some well-appointed knick-knacks. The deck above includes lanterns, a woven tray for added texture, and layered rugs.
---
Ready to build or remodel a deck?
Contact Quality Built Exteriors for a free estimate!