8 Ideas To Spice Up Your Front Door
Your entryway is (or should be!) the focal point of your home exterior—and the front door is its centerpiece. Its appearance sets the tone for your home. Whether your architectural style is formal, rustic, craftsman or contemporary, if your front door looks shabby, it degrades your entire curb appeal.
From DIY to professional, here are some ideas that will be your doorway to a better-looking home front: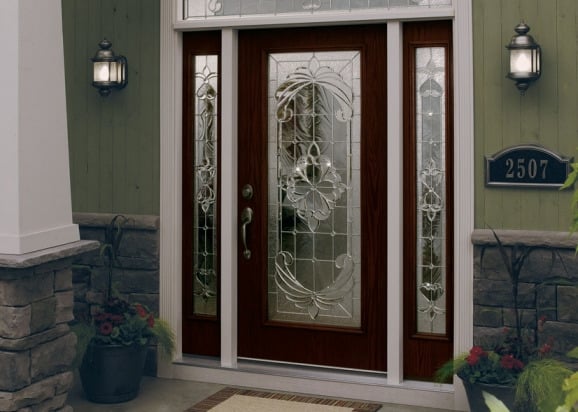 1. Replace your front door
It might seem most obvious, but the best way to get a great-looking new door is to… buy a great-looking new door! Looks aren't the only benefit to replacement entry doors—they're also more energy efficient. If you have a solid door and a dark foyer, why not upgrade to an entry door with glass panes? It will naturally light your front hall and add instant elegance to your entryway.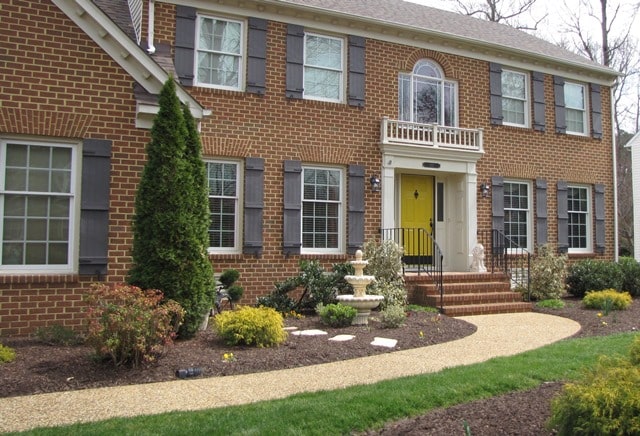 2. Paint it an eye-popping color
Perhaps replacing your front door isn't in the budget, or the door is in good condition. A new coat of paint could be just what the doctor ordered! I had to really sweet-talk my husband into letting me paint our front door a crisp yellow—it was previously brown to match our shutters—but I get compliments on it weekly! (It's the actual photo shown above.) I chose the hue by pulling from colors in our landscaping. My tips for making sure your DIY front door paint job comes out looking professional:
Make sure the door is clean before beginning
Remove your hardware or cover it in painter's tape
First paint any recessed areas around your raised panels
Paint the panels themselves
Then paint the horizontal and vertical areas around the panels, going with the grain.
IMPORTANT: Don't paint on a hot day, especially if the sun is shining directly on your door, or the paint will dry as you go and leave drag marks.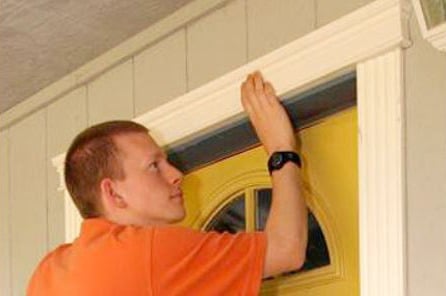 3. Frame it
If your door is plain, you can add trim to the door itself or to the frame around it. Exterior molding can add a lot of style, with myriad options to choose from: crown molding or dentil molding above the door, fluted pilasters flanking the doorway, or even simple, chunky columns for a contemporary or craftsman look. A home exterior professional can recommend styles that would suit your home, and then handle the install if you're not handy with a miter saw.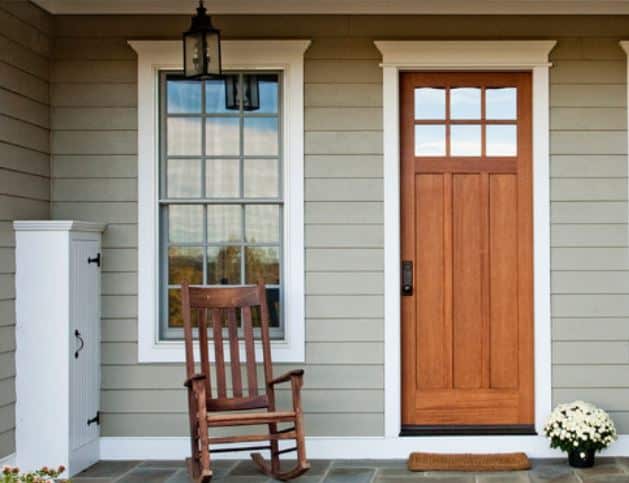 4. Replace the trim
Is your front door framed already—but the wood is rotting? Nothing can ruin a beautiful entryway like peeling, rotting wood trim. The look of neglect is far from welcoming to your guests. It might be time to upgrade to PVC trim or invest in vinyl trim wrap (Quality Built Exteriors does both of these services).
5. Add a decorative knocker
Yes, some guests will actually use the knocker, but its purpose is more for show. A hefty door knocker is a classic front-door feature and a great opportunity to express yourself. Some folks get their family surname engraved on a plaque-style knocker, while others pay homage to a favorite animal or insect. The knocker is another way to tie in your home's architectural style. Bonus: it provides a built-in place to hang your holiday wreaths. But why wait for the holidays…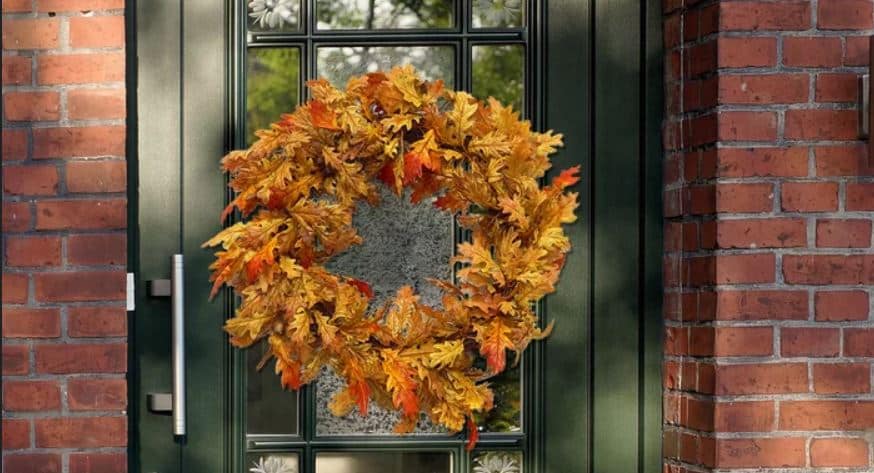 6. Add a dramatic wreath
Wreaths add character, texture and dimension to your doorway. It's a great, colorful way to draw your eye to the front door. Wreaths can be seasonal or simply an expression of the family's personality… several of my neighbors have made wreaths from their kids' old baseballs and hang them during Little League season. (When you knock and nobody's home, you quickly figure out why!)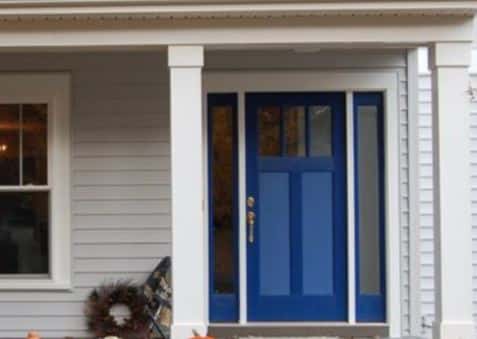 7. Create contrast
Who says a front door has to be flat and monotone? You can use thin wood trim to outline your door panels and give them more dimension—and preferably painted a different color. You can also achieve this look with paint alone, simply picking two different colors for your door. You can paint the panels a complementary color, or even just the recessed areas, as shown in some of these photos of two-tone front doors that look fabulous.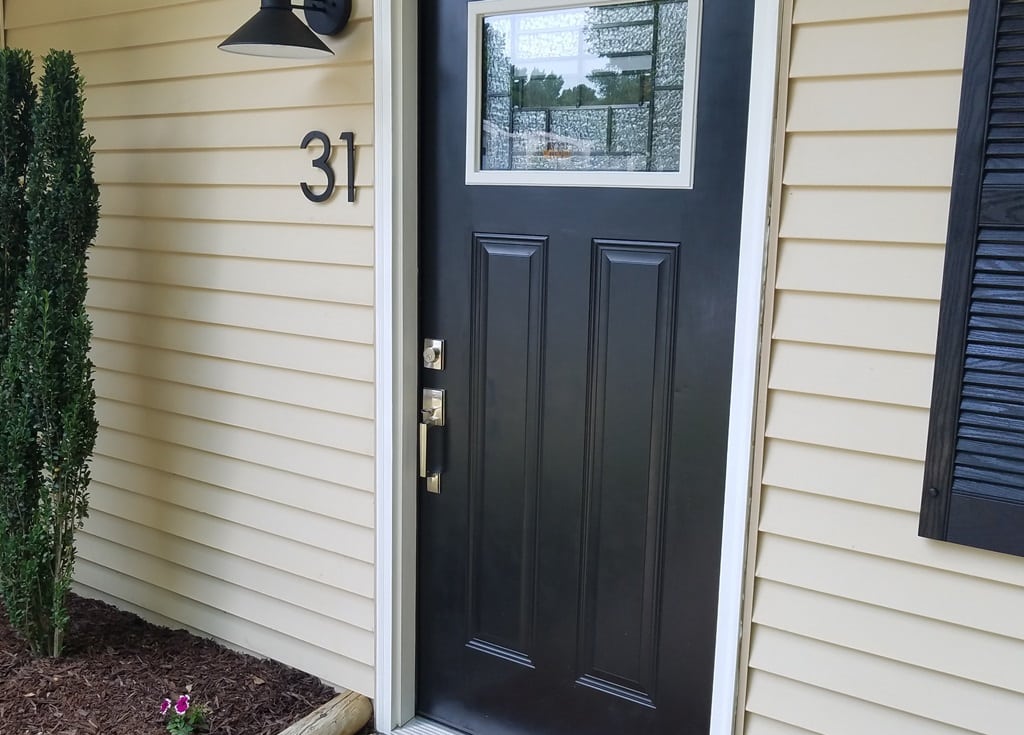 8. Change (or paint) the hardware
Stuck with a simple knob? Upgrade to a dramatic handle. If the finish is flaking off your hardware but you still like the shape, simply repaint it! In my yellow-door photo in #2, all the black hardware you see used to be worn-out brass. I primed it and spray-painted it, then did a clear coat. But in my case, that started chip after a year and I recoated it with canned paint (being careful to minimize the appearance of brush strokes), which was thicker and has fared better. Of course, the brass kick plate needed a full replacement, and I simply popped on a new black one for under $15. The door above is on a townhouse we rent out, and it needed a nice, modern lockset to go with the sleek new door we installed.
Final Thought
Aside from pure aesthetics, be mindful of basic door maintenance: replace any worn weatherstripping and keep your hinges tightened for optimum energy efficiency!